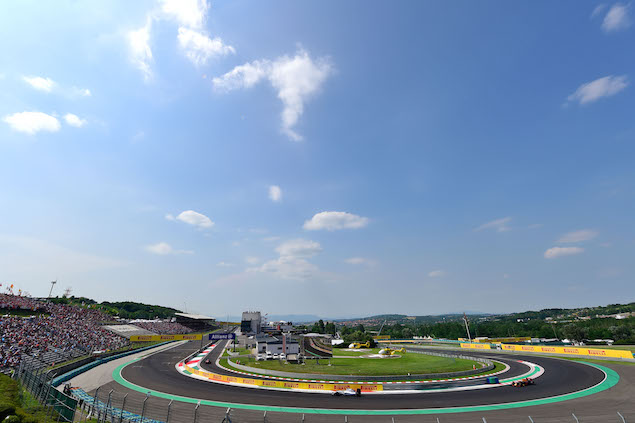 This weekend's Hungarian Grand Prix is the final race before Formula 1's summer break. But for the teams, there's one more task they have to take care of before they can put their feet up on the beach.
Two days after the chequered flag in Budapest, the Hungaroring will be open for business again at 9am local time on Tuesday August 1 for the first of two days of in-season testing. It's the second such official test of 2017 - the first was held in mid-April at Bahrain International Circuit.
To encourage them to give track time to rookie drivers, each team must give two of the four days of in-season testing to drivers who have competed in no more than two Grands Prix.
The big draw for next week's test will undoubtedly be someone with a good deal more experience in F1 than that. Robert Kubica will be behind the wheel of the Renault R.S.17 on the second day of the test, with Nicholas Latifi in charge of testing for the opening day.
19-year-old British driver George Russell will be running both days for Mercedes. Santino Ferrucci is similarly solely in charge of the Haas for the whole duration. Meanwhile Nikita Mazepin and Lucas Auer will spilt time in the Force India on both Tuesday and Wednesday.
Gustav Malja gets to spend Tuesday in the Sauber before handing over to Nobuharu Matsushita. Williams will be fielding Felipe Massa and Luca Ghiotto, - the arrangement of their respective days and times in the car is still to be announced.
Charles Leclerc will get time in the Ferrari, although it's not confirmed which day or who else will be attending for the Scuderia. Similarly, Sean Gelael will have one day in the Toro Rosso. In each case, one of the team's full-time drivers is likely to take the other day.
Yet to confirm their driver line-up for next week tests are Red Bull and McLaren. Development driver Pierre Gasly is likely to appear in the RB13, while it would be no surprise to see Lando Norris paired with Stoffel Vandoorne in the MCL32.
Team
Confirmed
Possible
Mercedes
George Russell (both days)

-
Ferrari
Charles Leclerc (one day)

Kimi Raikkonen
Red Bull
TBA
Max Verstappen
Pierre Gasly
Force India
Lucas Auer (both days/half)
Nikita Mazepin (both days/half)
-
Williams
Felipe Massa (one day)
Luca Ghiotto (one day)
-
Toro Rosso
Sean Gelael (one day)
Carlos Sainz
Daniil Kvyat
Haas
Santino Ferrucci (both days)

-
Renault
Nicholas Latifi (Tuesday)
Robert Kubica (Wednesday)
-
Sauber
Gustav Malja (Tuesday)
Nobuharu Matsushita (Wednesday)
-
McLaren
TBA
Stoffel Vandoorne
Lando Norris

GALLERY: F1 drivers' wives and girlfriends
Keep up to date with all the F1 news via Facebook and Twitter