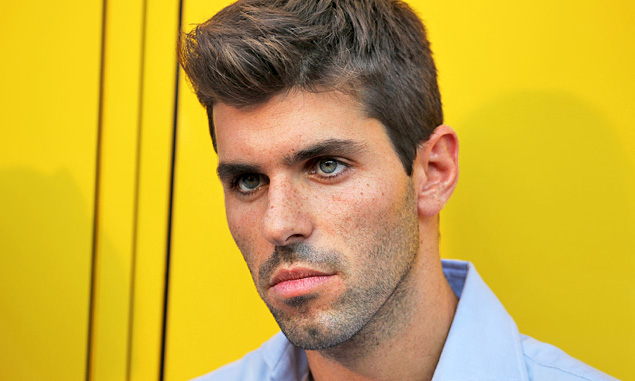 Former Toro Rosso F1 driver Jaime Alguersuari has said he will no longer be competing in motorsport in the future.
The Spaniard said that he had simply lost his love for motor racing and that it was time for a completely new direction.
"I decided to stop because it's time for change," he told a press conference in Madrid this week. "I'm 25 and I've decided to start a new chapter.
"I've decided to stop now basically because I have been in this business for eight years; I have learned a lot and I've had a good experience.
"Something inside me says it's the moment to take a different path because I think I have fallen out of love with this girlfriend that has been with me all these years.
"It's not a sad day. I've had fun driving. But right now I'm not crazy about racing, and that's why I've decided to stop."
At the time that he made his début with Toro Rosso in Formula One, Alguersuari was the youngest driver to have ever started a Grand Prix at the age of 19 years, 125 days. In so doing, he also became the first Formula One driver to have been born in the 1990s.
Since then his record has been broken by Max Verstappen, who was just 17 years and 166 days when he lined up on the grid in Australia earlier this year.
Alguersuari went on to compete in 46 Grand Prix races over the next two years. His highest finishing position was seventh place at the team's home event at Monza in 2011, an achievement that he matched a few weeks later in Korea.
Alguersuari and his team mate Sébastien Buemi both lost their seats when Toro Rosso decided on a clean slate for 2012 and went for an all-new line-up of Daniel Ricciardo and Jean-Éric Vergne.
He picked up a role as official test driver for tyre providers Pirelli in 2012 and 2013 and also tried his hand at media work at Formula One events, before returning to competition with a seat in the Formula E championship at Virgin Racing starting in 2014. He narrowly missed the podium in the fourth race of the inaugural season in Buenos Aires when he finished in fourth place.
However, Alguersuari was forced out of the Virgin seat for the final round in London after an undisclosed minor health issue caused him to faint following the end of the Moscow ePrix in June. He said that extensive medical tests had not found anything wrong, but admitted that the incident had been a factor in his voluntary decision to now retire from motor racing.
"I could continue competing but I'm stopping," he said. "Nowadays I don't belong in racing, but I can't say it's the end either."
Alguersuari has been dividing his time in racing with a parallel career in music, headlining festivals and topping the download charts as a DJ working out of a studio in Barcelona under the name 'Squire'.
"I could stay [in racing] just for the money but I need a change. What makes me happy is music, so I am going to make music," he said. "I think it's time to wake up in the morning and do something I love, and that isn't racing anymore.
"I've always said it's important to follow your instincts," he added. "I love to close the door and produce, compose, play and listen to music. I couldn't live without it."
Alex Lynn F1i exclusive: Staying grounded in pursuit of the dream
VIDEO: Inside an F1 cockpit for a lap of Jerez
Who said that? Lauda. I SAID, WHO SAID THAT?
Keep up to date with all the F1 news via Facebook and Twitter