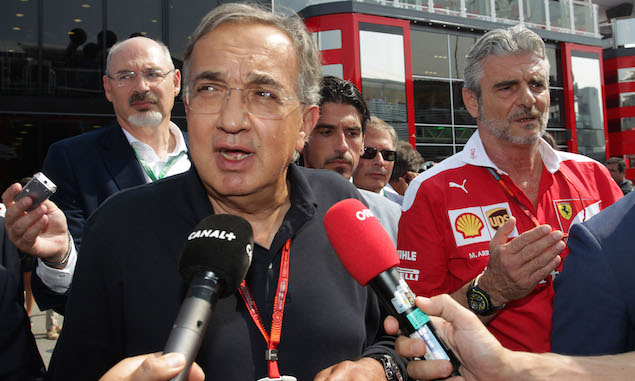 Ferrari chairman Sergio Marchionne is unimpressed with F1's planned changes for 2021, and says the iconic manufacturer could simply quit the sport if its future rules don't suit its agenda.
Speaking yesterday in Ferrari's third quarter call with analysts from the financial community, Marchionne broadly addressed the manufacturer's future in F1 following the unveiling earlier this week of a first draft of the sport's 2021 engine rules.
While Marchionne did not detail his points of contention, he insisted that if F1 moves in a direction contrary to Ferrari's interests, it could turn its back on Grand Prix racing.
"F1 has been part of our DNA since the day we were born," he said.
"It's not as though we can define ourselves differently. But if we change the sandbox to the point where it becomes an unrecognisable sandbox, I don't want to play any more. I don't want to play NASCAR globally, I just don't."
Asked how he would feel about being the chief executive who led Ferrari away from Formula 1, Marchionne offered a firm response.
"Like a million bucks because I'll be working on an alternative strategy to try and replace it. More rational one, too."
Marchionne made clear that he supported the sport's cost-cutting initiatives, and a simpler, less costly power unit was a step in the right direction.
But the manager also underlined that Formula 1 and Ferrari appeared to be 'somewhat at odds in terms of the strategic development' after 2020.
"Liberty has got a couple of good intentions in all of this, one of which is to reduce the cost of execution for the team, which I think is good," said the Fiat-Chrysler boss.
"I think you need to be absolutely clear that unless we find a set of circumstances, the results of which are beneficial to the maintenance of the brand in the marketplace and to the strengthening of the unique position for Ferrari, Ferrari will not play."
Marchionne said, however, that he would keep an open mind until more information comes his way, likely when F1's Strategy Group reconvenes on Tuesday to further discuss the changes announced earlier this week.
"We're walking into this meeting next Tuesday with the best of intentions, we'll see where it takes us,' he said.
"I am attending those meetings on strategy because it's important, because it matters a lot to this business,' added Marchionne.
"The financial implications of the wrong choice for the moment going forward are pretty significant to Ferrari."
Gallery: The beautiful wives and girlfriends of F1 drivers
Keep up to date with all the F1 news via Facebook and Twitter