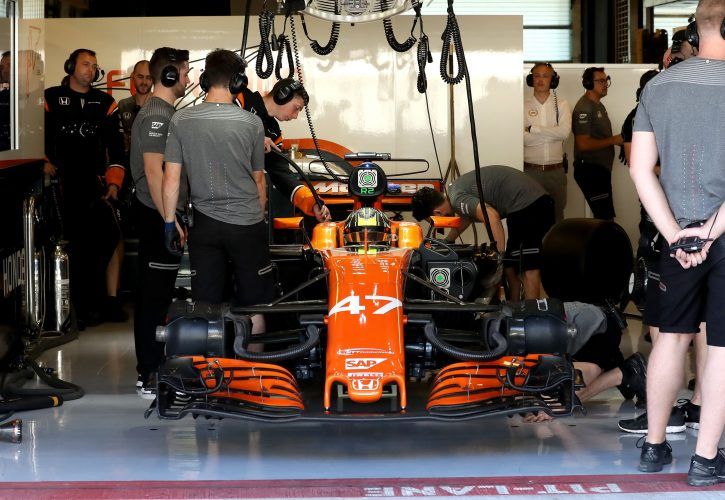 McLaren's Eric Boullier says the Woking-based outfit is right on schedule with its 2018 car after initially running late in the MCL33's design process.
McLaren's late decision to part ways with engine partner Honda and switch its allegiance to Renault put the team behind by three weeks in the design and manufacturing of its 2018 charger.
A huge round-the-clock effort by the troops at Woking has brought the car back on schedule, says Boullier.
"Changing from Honda to Renault didn't add to the burden," the McLaren racing director told L'Equipe.
"But a different approach was required because the Renault engine has a different configuration. This forced us to redesign part of the car.
"The Renault engine's turbo is a single component while Honda uses elements on both sides of the unit, which in turn impacts weight distribution."
McLaren's relationship with its new partner is a less complicated affair than with Honda, thanks to a common culture more than just the disappearance of the very complex language barrier.
"With Honda, I learned about the difficulties in communicating linked to a different langauage but also a different culture.
"It's not just about translating a message to get it across. The way something is said and when it is said are equally important, especially with the Japanese.
"When we had our first technical meeting with Renault, I insisted on being there, not to control everything but just to help the guys in case they didn't understand something.
"The ice needed to be broken, and today I believe everyone on both sides is happy."
Renault was confronted with reliability woes last season, a state of affairs which has enticed the manufacturer to focus massively on improving the durability of its power unit, an approach which Boullier approves even if a bit of performance is left on the table.
"It's only normal for Renault to give reliability the utmost importance, especially with the introduction this year of the new three-engine limit. I need that reliability.
"In the past three years, McLaren has been missing data related to tyre degradation, brake cooling, fuel consumption.
"Now, we can regain a few habits that we had lost. For example, we're doing pit stop practice once again, something we had temporarily discarded in order to work on the engine."
When questioned about McLaren's return to the forefront of Grand Prix racing or the chances of stepping on to the podium this year, Boullier remains coy.
"It's too early to talk about that. We're not alone and we don't know what our rivals have been up to overt the winter. Let's see what happens in Barcelona."
Gallery: The beautiful wives and girlfriends of F1 drivers
Keep up to date with all the F1 news via Facebook and Twitter