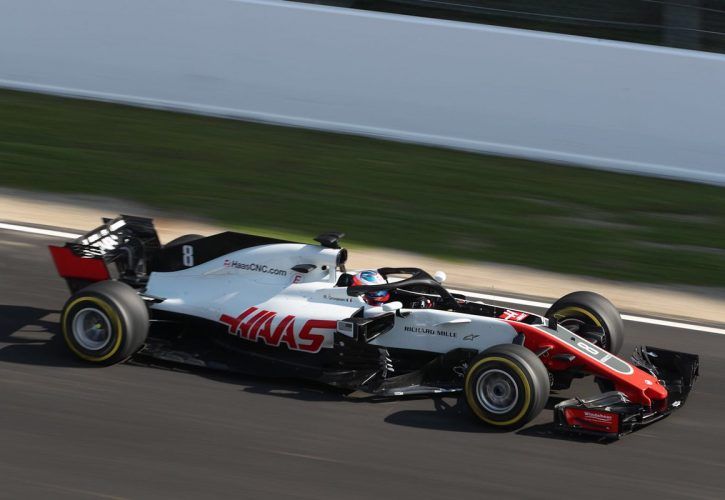 Romain Grosjean will be the first driver to put Haas' new VF-18 through its paces on Monday when pre-season testing gets underway in Barcelona.
On Friday, the team enjoyed a 'filming day' outing however with their contender at the Circuit de Catalunya, conducting a short shakedown and systems check run.
The US outfit heads into its third season of Grand Prix racing, and hopes to continue its steady progress up the relative performance ladder.
Haas concluded its 2017 campaign eighth in the Constructors' standings, the same position as the year before in its maiden year of Formula 1, but with more points and a more consistent track record.
Looking at the testing week ahead, Grosjean revealed where he hopes Haas will be in terms of speed relative to the field's front-runners.
"Ideally, within a second of the fastest car on the track," said the 31-year-old.
"Even though testing is always a little unclear, you never know what people are doing with fuel loads and tyres and so on.
"We generally have a pretty good idea of where we are. I want to be happy with the car and I want to be able to know where we can improve. I want a good early set-up for Melbourne."
Haas confirmed that its pre-season testing schedule would be equally split between Grosjean and team mate Kevin Magnussen, with the drivers running on alternate days.
Team principal Guenther Steiner underlined the importance of accumulating mileage at the Circuit de Catalunya in the next two weeks.
"The expectation is always the same: we want to run as much as possible and to learn as much as possible," said Steiner.
"We've now got more people working back at the factory that can analyze data. Before, this was an area where we were perhaps a little weak.
"We're growing. We're always getting better, and to get better you need time. With having more people, we can do more to get prepared for the first race."
Gallery: The beautiful wives and girlfriends of F1 drivers
Keep up to date with all the F1 news via Facebook and Twitter