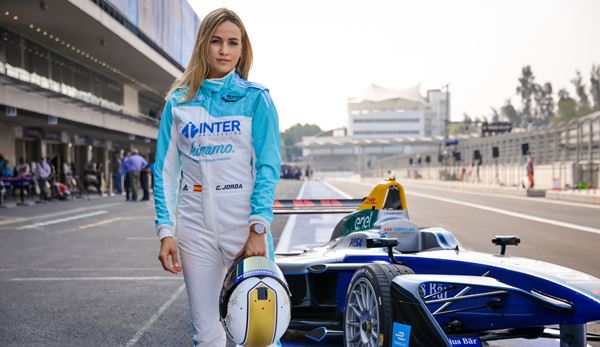 Carmen Jorda has moved to clarify her comments about women racers' physical ability - or rather inability - to race in Formula 1.
The former Lotus and Renault "development" driver, who for some reason is also a member of the FIA's Women in Motorsport Commission, tested a Formula E car in Mexico last week.
Assessing her all-electric experience, Jorda said the series could be tackled by women, contrary to F1 which remains in her view physically out of reach for female racers.
Jorda was taken to the woodshed on social media, but also by 2009 F1 world champion Jenson Button who took issue with the claim, tweeting that "Physical barrier is not your issue Carmen", alluding to the 29-year-old's lack of success in motorsport.
Interestingly, the controversy was followed earlier this week by news that Sauber had handed a development role to F3 racer Tatiana Calderon, who ambitions to one day race in F1.
"On Saturday, after testing a Formula E car before the Mexico City E-Prix, I spoke to several journalists about the experience," Jorda said in a statement;
"During one interview I was asked to compare driving a Formula E car to a Formula One car, and then specifically, whether Formula E is easier for women to compete in that Formula One.
"Having some experience of both cars, I gave my personal opinion that driving a Formula E car presents less of a physical challenge than Formula One, because of the lower downforce.
"I also referred to there being 'a physical issue' for women in Formula 1, something which has created considerable debate over the last few days -- including from many prominent women within our sport.
"I would like to thank fellow drivers for sharing their opinions, and respect their views greatly.
"I am sorry if my comments appeared to speak for all women and created all confusion -- as I was reflecting merely on my own personal experience. I never intended to discourage other women from competing at the pinnacle of our sport, or say that they physically cannot.
"My comments were purely a response to a direct question, asking "do you think Formula E would be easier for women?
"As a member of the FIA's Women in Motorsport Commission, I am committed to encouraging more women to become involved in our sport - both on and off the track - and celebrating those who are achieving great results.
"As such, I would like to extend my congratulations to Tatiana Calderon, who was yesterday announced as a Formula One test driver at Sauber.
"I hope that she can become the first woman in 41 years to start a race on the Formula One grid and wish her the very best of luck for the coming season.
"I wish all women in motorsport a happy International Women's Day."
And a happy International Women's Day to all women from us!
Gallery: The beautiful wives and girlfriends of F1 drivers
Keep up to date with all the F1 news via Facebook and Twitter