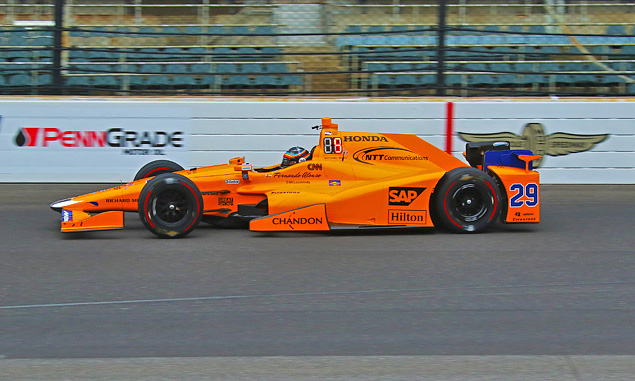 Fernando Alonso admits that he regrets missing out on a return to racing in the Indianapolis 500 this year.
The two-time Formula 1world champion made his début in the world-famous event last year. He had been leading the race before being sidelined by an engine failure.
This year Alonso has opted to enter the World Endurance Championship with Toyota. That's alongside his existing F1 duties at McLaren. It means there is no room in his busy schedule for another Indy 500 in 2018.
"I miss being there, to be honest," he told reporters on Friday.
"I will watch the race closely," he continued. "I follow every session they do, every test. I have a lot of friends there, I have close contact again with engineers.
"Everyone is telling me that the new aero package really works," he added. "When they test now with the new aero package and things like that, you watch on television and you would like to do one lap, you know?
"So definitely I want to test again," he said. "I miss being there [but] it's difficult for me to think of extra races right now."
Former IndyCar champion Gil de Ferrarn, who mentored Alonso at least year's Indy 500, hopes to see the F1 star back in Indianapolis in the future.
"He has a tremendous amount of talent," said de Ferran. "He's a true racer, one of the best drivers in history. Very intense, intelligent, and kind. His work ethic is second to none.
"Can he win [the Indy 500 in future]? Absolutely he can. If it has four wheels and a steering wheel, if you put Fernando Alonso in it, he has a chance."
Alonso makes his WEC LMP1 debut this weekend in the 6 Hours at Spa-Francorchamps event. His car will be starting on pole position after the sister Toyota car's qualifying times were deleted for a fuel irregularity.
It's Alonso's first pole position since he started at the front in the 2012 Formula 1 German Grand Prix with Ferrari.
But despite this dream start to his WEC career, the Spaniard isn't taking anything for granted in today's race.
"I think the LMP1 non-hybrids are definitely fast. In my opinion too fast," Alonso said after final practice, which saw his rivals much closer in term of race pace than in qualifying.
"We have a boost and different technology that in qualifying over one lap maybe are okay," he explained. "But in the race distance, they could be a little bit more consistent because we cannot drain the battery as maybe you do in qualifying.
"They will be a threat tomorrow that's for sure. It's a race that we have to win, not only against the other LMP1, also against the race itself, with all the tricky conditions."
Gallery: The beautiful wives and girlfriends of F1 drivers
Keep up to date with all the F1 news via Facebook and Twitter