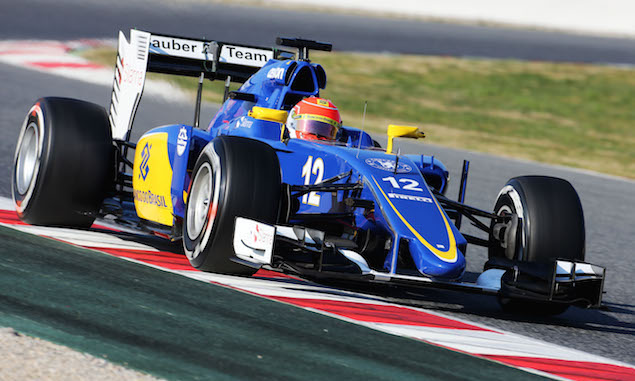 Felipe Nasr set the fastest time of the first morning of the second pre-season test at Barcelona as Lewis Hamilton withdrew due to illness.
Nasr was fastest on day three of the first test at Jerez, with Sauber second to Ferrari on the other three days. Barcelona saw Nasr set the pace again with a 1:27.307 as Sauber continued to register quick lap times. For once it wasn't a Ferrari-powered one-two, with Daniel Ricciardo ending the morning session second quickest in the Red Bull.
Ricciardo struggled for mileage early on as the RB11 was the last car to emerge from the pits in the morning, but some consistent running later in the session allowed him to post a 1:27.363 and complete 18 laps.
Pastor Maldonado was third quickest for Lotus, 0.2s slower than Nasr having completed 48 laps. It wasn't a smooth morning for the team, however, as the E23 was the cause of two red flags in the opening session. Maldonado stopped at Turn 5 on both occasions, with the two stoppages roughly an hour apart.
While the Lotus stopped twice, Lewis Hamilton ended his running altogether due to illness. The Mercedes driver completed 11 laps in the first two hours before the team announced he was not well enough to continue. Pascal Wehrlein - who was driving for Force India all morning - was called up as Hamilton's replacement and switched cars just before the lunch break. Force India will run Sergio Perez this afternoon as a result.
Hamilton will be joined on the sidelines by Jenson Button as McLaren also had to end its running for the day early. After an encouraging start which saw Button complete 21 laps - and set the sixth fastest time behind Max Verstappen and Kimi Raikkonen - Honda discovered an issue with the MGU-K. An engine change ends the team's running for the day, while a faulty seal on the MGU-K needs redesigning and won't be ready until Saturday.
Wehrlein's busy morning saw him end the session with both the seventh and eighth quickest times, with his best lap of 1:28.329 coming during 32 laps in the Force India. He was almost a second slower during six late laps in the Mercedes.
Susie Wolff had the most productive start to the day as she completed 77 laps in the FW37, setting a best time two seconds slower than Nasr in the Sauber. As a result of stopping early, Hamilton registered the slowest time overall.
Follow live coverage of the second test here.
Click here for the gallery from day one of the second test
Keep up to date with all the F1 news via Facebook and Twitter