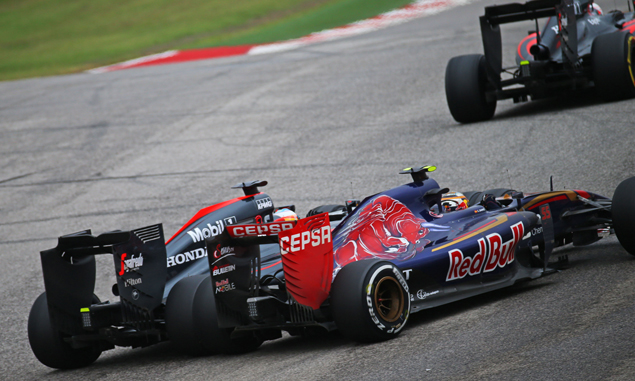 Carlos Sainz describes his seventh-place finish in the US Grand Prix as a "great achievement", especially after the Toro Rosso rookie had to overcome many hurdles at Austin.
Sainz immediately found himself on the back foot when he crashed out of qualifying, which took place in wet conditions on the morning before the race. Despite the short time frame, Toro Rosso managed to repair the Spaniard's STR10 so he could line up on a drying COTA grid.
From last, Sainz drove an inspired grand prix, battling back to sixth on the road though a five-second penalty eventually demoted him to P7.
"I knew it was going to a chaotic race and anything could happen," said the 21-year-old. "We did a very good first lap and were quickly in the points. We were up to 10th after two or three laps, but then the problems started appearing.
"We had a pit stop where we lost 10 or 15 seconds, and then we made the mistake to put the prime tyre on when it was clearly not the right tyre for the race.
"Then we had another pit stop and the limiter didn't work when I left the pits. We also had to save the brakes because I was running out of them.
"So many things happened, so to arrive P6 – but with the penalty back to P7 – it was a great achievement by all of us."
Sainz also had his fair share of on-track battles throughout his recovery, fighting with the likes of fellow Red Bull stable mate Daniel Ricciardo, Ferrari's Kimi Raikkonen, McLaren-Honda Jenson Button and childhood hero Fernando Alonso.
But in a race that ran the gamut of human emotions, the former Formula Renault 3.5 Series champion was torn between the joy of securing his career best result and contemplating what might have been.
"It was good fun because at the end it was about throwing the car in and closing the eyes and it worked.
"I feel a lot more could have been achieved today if we hadn't lost all those seconds during the race.
"To finish P6 [on the road] and have the best race of the season despite starting last shows that we are on the right path."
"Now we need to assess the small issues that we are having and if we solve them we can become a top-five team in the championship because we definitely have the car, the people and the drivers. When we put it all together I believe we will be in the top five."
Hamilton takes title after dramatic USGP victory
Lewis Hamilton: Three-time F1 world champion
Click here for the F1 drivers' girlfriends gallery
Keep up to date with all the F1 news via Facebook and Twitter