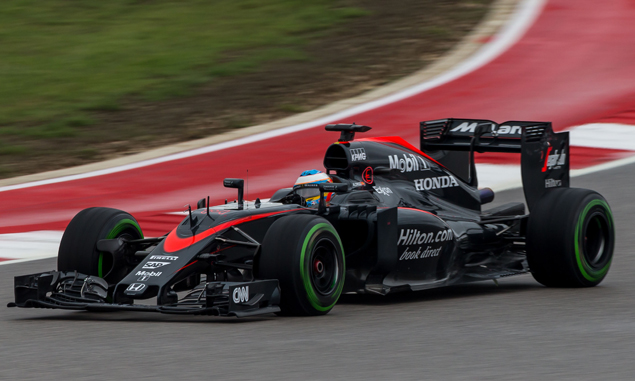 Fernando Alonso says the engine issue he suffered in the closing stages of the USGP robbed him of a "miracle" fifth-place result after what was "certainly one the best races of my life".
The Spaniard entered the Austin weekend with renewed ambitions and an upgraded Honda power unit. Having noticed "definite progress" in the build up to the race, Alonso was immediately on the back foot when he fell foul of a chaotic opening lap.
Despite this early setback, the double world champion drove an inspired recovery race and was running well into the points-paying positions when McLaren-Honda's reliability woes struck once more.
"Someone hit me in the first corner, so I spun around and was dead last, half a minute from the next car," said Alonso. "We didn't lose hope; we fought and were up to fifth close to the end, with a really strong pace.
"We just lost power in the final laps. The new engine has more performance but we're speaking of just one tenth of a second per lap. It was an electrical problem, because the engine would go and then cut, so I don't think it was a mechanical issue.
"I think we deserved to be fifth, the car was going really well, we could make up positions, but [the electrical issue] cost me 30 seconds in 12 laps.
"It looked like we could get a miracle today but then we had the problem, and that was that."
Probably keen to salvage his new power unit, Alonso asked to retire his ailing MP4-30 shortly after the problem surfaced. But his engineer told him to stay out since the 34-year-old still had a shot at securing a third points finish this year.
Alonso held on in the top 10 until the very last lap when Red Bull's Daniel Ricciardo denied him the final point on offer in a denouement that epitomises the ex-Ferrari star's heart-wrenching season.
"We ended up nearly last and almost lapped. It was certainly one of the best races of my life, but with no points to show at the end.
"It's the kind of issue we seem to keep on having, but hopefully we'll keep on learning and be in a better position next year."
Lewis Hamilton: Three-time F1 world champion
United States Grand Prix - Driver ratings
Click here for the F1 drivers' girlfriends gallery
Keep up to date with all the F1 news via Facebook and Twitter