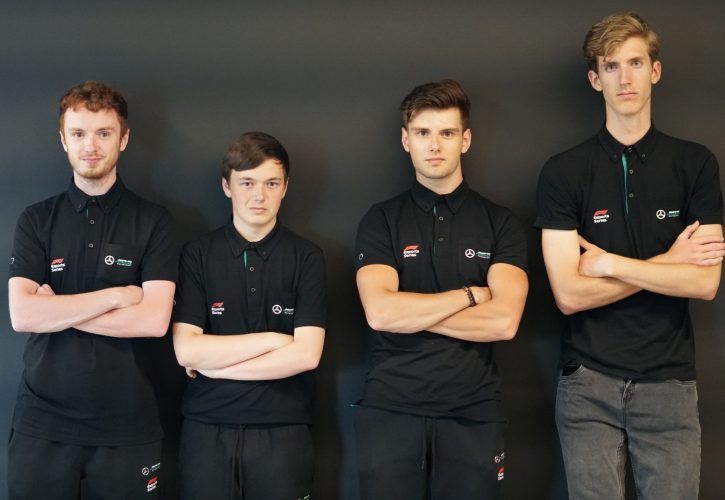 Mercedes-AMG Petronas Motorsport has joined the growing number of Formula 1 teams to unveil their brand new team for the 2018 F1 eSports Series.
Brendon Leigh, Harry Jacks, Patryk Krutyi and Dani Bereznay have been recruited as the team's drivers for this year's competition.
Mercedes-AMG Petronas eSports will be based at the premises of the Formula One team in Brackley. A purpose-built eSports training centre will soon be under construction.
It will provide the team's gamers with state-of-the-art facilities and equipment to develop their skills. The new facility will enable the gamers to work on their gaming performance on multiple platforms and further improve their skills.
The eSports programme will be Located in the same building as the Driver-In-Loop Simulator where F1 and development drivers provide feedback to engineers on a virtual model of the car.
The team will benefit from transferable elements in areas such as optimising car set-up and honing race craft. The programme also focuses on human performance covering the core areas of nutrition, physical conditioning and wellbeing that support the gamers in reaching their full potential.
Leigh is the winner of last year's inaugural F1 eSports Series. The 19-year-old from Reading started competing online on the F1 2012 game. His driving style is fairly aggressive, and he says he prefers a bit of understeer in the car.
Fellow Briton Jacks made the final in McLaren's World's Fastest Gamer competition last year and has numerous league titles to his name. Born in Lowestoft, Suffolk in 1993, his first racing game experience was with F1 1997. He describes his driving style as 'smooth and precise'.
Krutyi from Poland has clinched four league titles in his home country so far in his eSporting career. His first gaming loves were Grand Theft Auto and Call of Duty, but then he started watching Formula 1 and never looked back.
The 22-year-old actually met Mercedes boss Toto Wolff at the 2015 Hungarian GP after winning Paddock Passes in the Fan Zone. He reckons their brief conversation on the day might have helped him to a spot in the eSports team.
The final spot on the team goes to Hungarian-born Dani Bereznay, who was selected by the team in the F1 eSports Pro Draft a few weeks ago. The 18-year-old starting on rally games before switching to F1 in 2007, playing on a PC using a steering wheel accessory.
He only started competing on online leagues last year but was soon finding the top step of the podium with a style described at 'adaptable and cautious'.
Gallery: The beautiful wives and girlfriends of F1 drivers
Keep up to date with all the F1 news via Facebook and Twitter