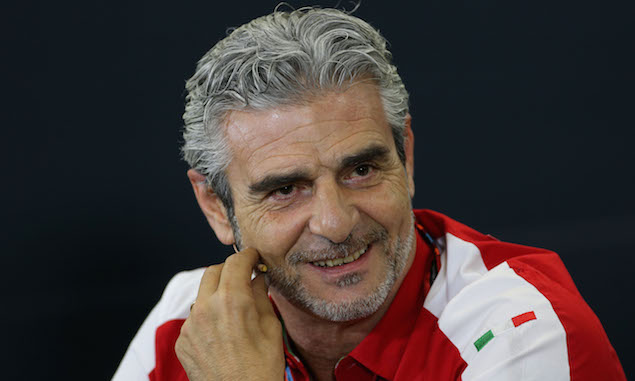 Ferrari team principal Maurizio Arrivabene has explained the reasons behind the Scuderia exercising a veto regarding the cost of power units.
The FIA released a remarkable statement on Monday outlining its intention to push on with plans to introduce am alternative, cheaper power unit in 2017. In the statement, the FIA said Ferrari had vetoed cost cutting measures which had been agreed upon by the teams, the FIA and Bernie Ecclestone to impose a maximum cost on the power units for customers.
Asked about the reasons for the veto, Arrivabene says Ferrari is simply protecting its commercial interests.
"Concerning the veto it is quite easy," Wolff said. "We exercised our veto in compliance with our legitimate commercial right to do business as a powertrain manufacturer. There's nothing to add."
Pushed on the topic, Arrivabene replied: "Why do we have to justify it more?
"Here we are talking about commercial right. We are not talking about budget, we are not talking about anything else. If somebody, they are asking you, they give you a specification to produce apple, OK you produce apple in line with the specification. That somebody,  they're asking you, OK, we want to impose you the price of the apple', what are you going to do? This is the principle. It has nothing to do with the rest."
And Arrivabene insists the veto is not exercised for any reason other than to protect Ferrari rather than impact on one of its rivals.
"For the rest I totally agree with veto. It is not a position against the other team. It is a decision that is defending a commercial principle. For the rest we are open to finding any other solution … You have in a public company, as we are now, but also in a company as Mercedes is, you have research and development costs that somehow you have to recover. I don't find any commercial entity all around the world that is giving their product out to the market for free – or at cost. So this is the principle."
AS IT HAPPENED: Mexican Grand Prix FP2
Eric Silbermann's Mexican grumpy preview
Technical analysis: United States
Click here for the F1 drivers' girlfriends gallery
Keep up to date with all the F1 news via Facebook and Twitter