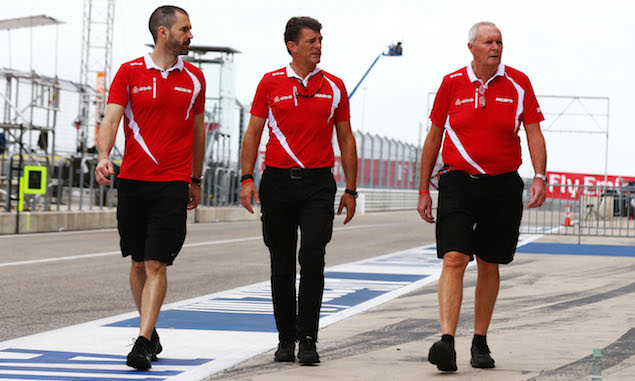 Toto Wolff says Mercedes will keep a close eye on developments at Manor after the resignations of John Booth and Graeme Lowdon.
Team principal Booth and sporting director Lowdon have tendered their resignations and are set to depart Manor at the end of the season following a difference of opinion with team owner Stephen Fitzpatrick. Manor recently announced it would become a Mercedes customer in 2016 while also entering in to a technical partnership with Williams.
Wolff said at the time of the announcement that Mercedes was pleased to be able to work with a team of "real racers" and he admits the impending departure of Booth and Lowdon has not gone unnoticed.
"Obviously when I spoke about racers, John and Graeme was very much meant by that plus of course the rest of the team, it's a bunch of real fighters that have shown stamina in keeping the team in the sport," Wolff said. "I've known John forever, since the Formula Renault days of Lewis and Formula 3 days.
"Manor means John Booth and John Booth means Manor and Graeme has made sure … he was very instrumental in keeping the team alive last year, so seeing them go, from a personal standpoint and from the racing spirit, is obviously a blow.
"So going forward, we have signed the deal with Manor and I would say we need to give credit to everybody in the team who stays in the team but we are curious spectators from now on."
AS IT HAPPENED: Mexican Grand Prix FP2
Eric Silbermann's Mexican grumpy preview
Technical analysis: United States
Click here for the F1 drivers' girlfriends gallery
Keep up to date with all the F1 news via Facebook and Twitter