Former F1 driver Johnny Herbert says Stoffel Vandoorne's failure to remain in F1 next season is a reminder for Lando Norris that sustaining a career in F1 is "not a given" for a young talented driver.
Vandoorne's entry into F1 with McLaren in 2016 was preceded by an impressive series of formative years in motorsport's junior single-seater categories capped by a GP2 title in 2015.
Yet the Belgian has struggled to make his mark in F1 in the past two seasons.
The 26-year-old was awarded mitigating circumstances last year linked to the failed McLaren-Honda partnership. But this season, Vandoorne has been outqualified by team mate Fernando Alonso at every single race.
That deficit coupled with lackluster performance on Sundays compelled McLaren to part ways with Vandoorne, and give Norris his big break in 2019.
Herbert hopes the 18-year-old's credentials in F2 - as well as those of Mercedes protégé George Russell who is also hoping to graduate to F1 next year - are a harbinger for success in Grand Prix racing.
"I hope it's a sign, as young as they are, that they will be able to jump into a Formula 1 seat and do the job," said Herbert, quoted by Motorsport.com.
"But, you always have Stoffel Vandoorne's story. Take Lando, you have to be very aware that it's not a given that it's an easy scenario and everything is going to work out for you.
"Vandoorne had a brilliant career through the single-seater categories and gets to F1 and sadly it hasn't happened for him.
"You have to capitalise on the chance. They are young, yes, but it doesn't matter," he added.
"If you don't do the job, you'll be out, and it's damn hard, unless you have a load of money in your pocket, to come back in again.
"You've got to grab it by the horns and use the situation you have to your advantage."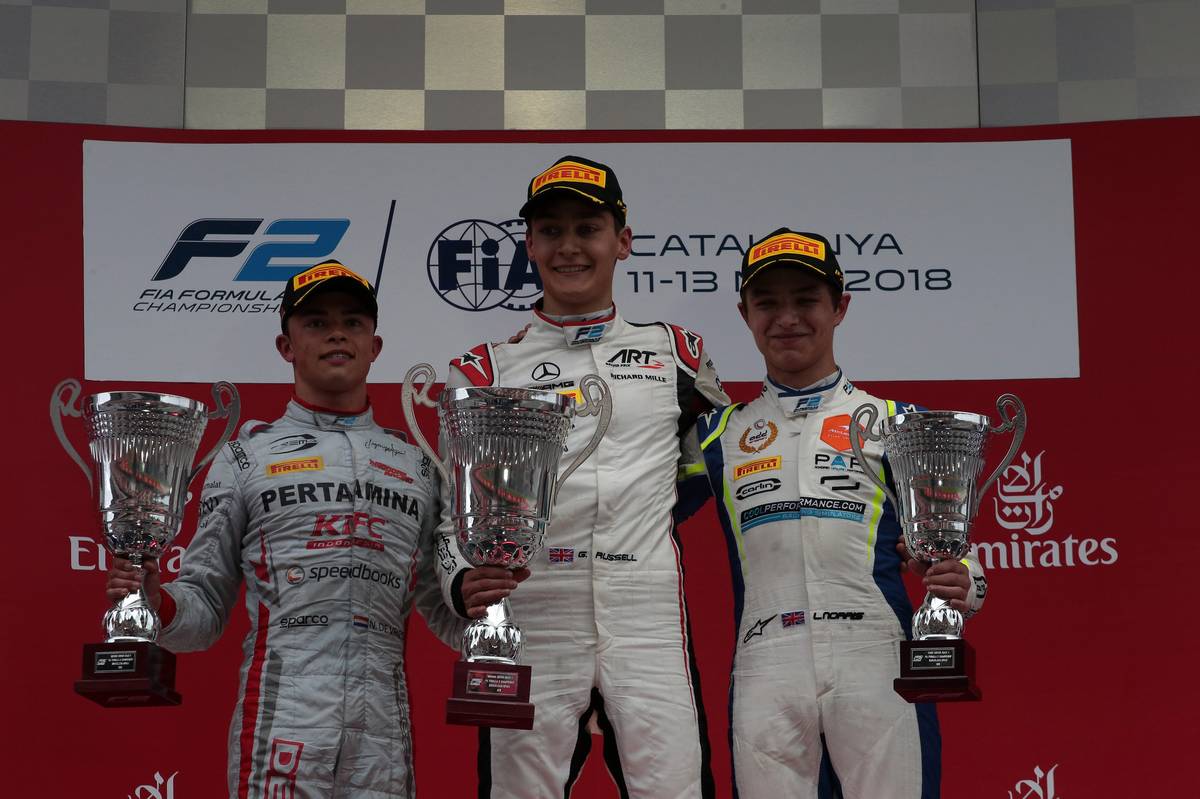 Norris, who will get another chance to showcase his skills when he takes part in this Friday's Russian Grand Prix FP1 session at Sochi, currently trails Russell in the F2 championship's standings before this weekend's penultimate round.
Russell's form has shown no signs of waning, but it's unsure his efforts to secure a seat in F1 for 2019 will be successful, even if he wins the F2 series.
"If George goes on to win the championship, and personally I think he will, he should get an F1 drive," insisted Herbert.
"It's good getting this experience from F2, in this tense battle that they have been in since race one. Hopefully they will be able to use that to their advantage in F1.
"That's where the hard work really starts, it's getting that momentum and carrying that through. The confidence that gives you is so, so powerful."
Gallery: The beautiful wives and girlfriends of F1 drivers
Keep up to date with all the F1 news via Facebook and Twitter