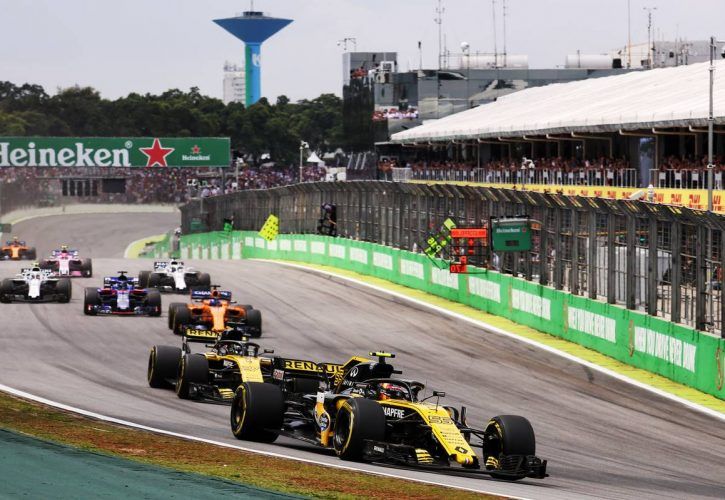 Renault F1 executive director Marcin Budkowski isn't dismissing a few changes to the 2019 grid's pecking order, induced by this year's regulations changes.
Last year, Renault won the honorary title of 'best of the rest', but the French manufacturer was still not in a position to challenge F1's Mercedes-Ferrari-Red Bull front-running trio.
Bridging the gap with its rivals is Renault's quest but it won't happen this year. However, the aero tweaks introduced as part of this season's technical rules could impact F1's pecking order and help Renault inch closer to the front.
"Realistically if you look at the situation last year and the gaps, recovering over a second and a half of performance over one winter is nearly impossible," Budkowski said.
"Now we have a regulation change so that could influence the pecking order.
"There's some changes on the front [wing] as well that could jeopardise other people's performance or reliability. They are external factors but we are not in control of these.
"From our point of view it's really to get the best possible out and do the best possible job with the regulations, do our homework and reach our targets.
"Overall the pecking order is a question of relative performance. If we reach our targets of performance we should be progressing compared to last year and then if the others don't do as good a job then it's going to be good for us."
Renault will pull the covers off its R.S.19 car on February 12, with the Enstone squad fielding an all-new design in 2019.
Speaking to Motorsport.com, Budkowski offered an update on its new charger's progress.
"It is always challenging to get a car with thousands and thousands of parts, and the only thing we carried over from last year's car is the power steering.
"That gives you an idea that all the rest [of the car] is changing, and it is changing because we are trying to squeeze more performance from every area.
"It is a big effort to do everything from scratch, plus the [new] regulations, but it is a performance goal.
"The later you leave it, the more performance you have, but the more stressful it is to get it out on time."
Gallery: The beautiful wives and girlfriends of F1 drivers
Keep up to date with all the F1 news via Facebook and Twitter