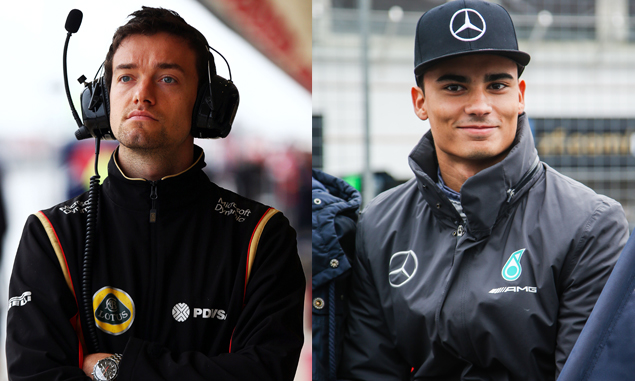 Jolyon Palmer and Pascal Wehrlein will make their second Race of Champions appearance, with the pair teaming up again for this year's London event held on November 20-21.
The 2016 Lotus recruit and Mercedes reserve driver are the latest F1 names to join a star-studded 2015 cast, which includes McLaren-Honda's Jenson Button Williams' Felipe Massa and Susie Wolff, Ferrari's Sebastian Vettel, Red Bull' Daniel Ricciardo, Force India's Nico Hulkenberg, and Lotus' Romain Grosjean.
Having made their Race of Champions debut in Barbados last December, Palmer and Wehrlein will once again join forces for Team Young Stars in the ROC Nations Cup at London's former Olympic Stadium.
"I'm delighted to be back at the Race Of Champions this year," said the 2014 GP2 Series champion. "It was such a great event last year but as a Brit, being in London makes it even more special for me. It's always a fun event, with some good competition of course and I really hope the fans enjoy it... I'm sure they will!"
Wehrlein, who became the youngest DTM champion in history last month, is equally pleased to return to the event, especially after reaching the final in the individual Race of Champions at the first attempt. The 21-year-old had eventually lost out to former grand prix winner David Coulthard at Bushy Park.
"I'm really looking forward to coming back for my second Race Of Champions, I enjoyed it so much last year in Barbados and I nearly made it all the way. Now I'll try to win it this year after my fantastic season winning the DTM title."
Click here for an exclusive Q&A with Jolyon Palmer
Use the red tabs on either side of the screen to scroll through more Formula One news and features
Click here for the F1 drivers' girlfriends gallery
Keep up to date with all the F1 news via Facebook and Twitter