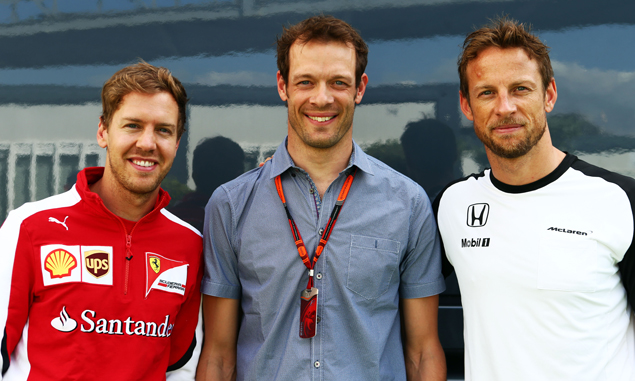 Ex-Formula One driver and two-time Le Mans winner Alexander Wurz has announced that he will retire from motor racing after this weekend's 6 Hours of Bahrain – the 2015 FIA World Endurance Championship season finale.
The 41-year-old Austrian has been racing with Toyota since 2012, having joined the Japanese manufacturer following the demise of Peugeot's LMP1 programme.
Wurz' F1 career spanned 10 years (1997-2007), 69 grand prix starts, and three podium finishes with spells at Benetton, McLaren, and Williams.
"After 12 years as a race and third driver in F1, I was lucky to indulge a passion for Le Mans Prototype racing for a further eight seasons," he said in a statement.
"That means I've enjoyed half of my lifetime competing at the top of motor sport and another quarter of it working my way up there, so I feel the time is right to call it a day and bring my career as a professional racing driver to a close."
Wurz burst onto the international scene when he won the 1996 Le Mans 24 Hours with Porsche. He then became Benetton's F1 test driver and made his grand prix debut in the top flight when he had to replace an unwell Gerhard Berger for three races.
Wurz immediately impressed by claiming a maiden podium in the 1997 British Grand Prix, which earned him a race seat for the following season. The Austrian spent three years at Benetton before taking on a third driver role at McLaren in 2001.
His next competitive outing would only come four years later when he had to deputise for the injured Juan Pablo Montoya at the San Marino Grand Prix. Although Wurz finished fourth on the road, he was elevated to a second career podium after third-placed Jenson Button's BAR was found to be illegal and excluded.
2006 saw Wurz join Williams as the team's official reserve driver before he was promoted to a full-time role in 2007. This allowed him to pick up a third and final podium finish when he secured P3 in a wild Canadian Grand Prix.
The Austrian then returned to endurance racing with Peugeot, clinching a second outright Le Mans victory in 2009, before spearheading Toyota's WEC project.
"I've a lot to be grateful for and a lot I'm proud of," added Wurz. "My two Le Mans wins will always be the most special and unforgettable, along with the Silverstone podium in my third Formula 1 race.
"In F1, I feel hugely privileged to have driven for top F1 teams like Benetton, McLaren and Williams, and added a bit of silverware to their trophy cabinets. I loved the testing and development work, collaborating with the engineers to find ever more performance."
Wurz has remained heavily involved in F1 since he last raced in the sport, serving as chairman of the Grand Prix Drivers' Association [GPDA], Driver Mentor at Williams, and TV consultant for Austrian broadcaster ORF.
"My future will still evolve around racing, it's in my blood after all," Wurz concluded. "Anyone who knows me, knows that I always have lots of projects on the go which includes growing my road safety and race track design business. You will still see me around, just without the overalls."
Click here for an exclusive Q&A with Jolyon Palmer
Use the red tabs on either side of the screen to scroll through more Formula One news and features
Click here for the F1 drivers' girlfriends gallery
Keep up to date with all the F1 news via Facebook and Twitter