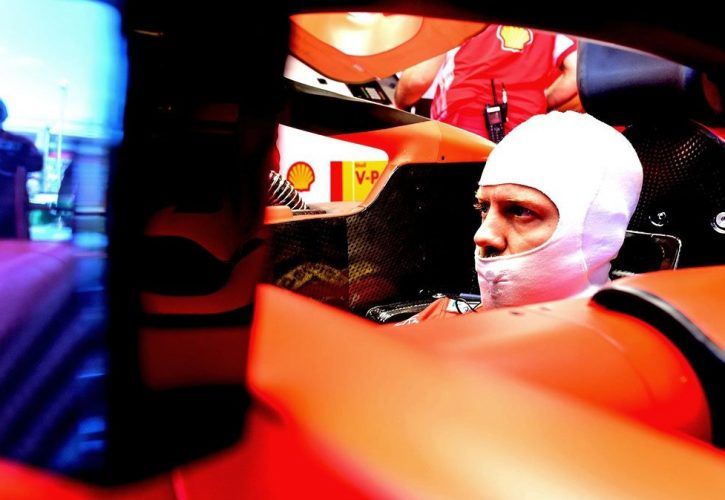 A distant fourth wasn't what Sebastian Vettel was expecting in Melbourne, where the German driver was at a loss to explain Ferrari's sudden drop in speed.
Solid performance in pre-season testing indicated that the Scuderia would likely show up in Australia as the class of the field, but practice sessions, qualifying and race day surprisingly contradicted that expectation.
"We were just slow," bluntly said Vettel after crossing the finish line some 35 seconds behind dominant winner, Mercedes' Valtteri Bottas.
"[I had] way less grip. In Barcelona, we were very happy with tyre life from day one. The balance was right, the car was responding to what I was asking it to do and I had a lot of confidence.
"All weekend, summing up, I didn't get the confidence I had in Barcelona, I didn't have the car underneath to play around, it wasn't doing what I was asking.
"There were glimpses - here and there we were strong.
"Our performance in some corners was good, but the majority of corners it wasn't, that's why we were slower than other people and lost out today."
Scuderia boss Mattia Binotto was equally quizzical about Ferrari's relative lack of pace, suggesting tyres - or rather the SF90's inability to exploit them efficiently - were a critical point.
"We struggled with the tyres, we tried different set-up approaches, but we never got the right balance," he admitted.
"We were lacking grip. Do we understand that yet? Probably not. We need to go back, analyse all the data and assess what happened."
After a scrappy start which saw him inadvertently pushed off the track by his team mate, Charles Leclerc took a long 31-lap first stint, after which he closed upon Vettel where he remained as team orders freezed the red cars' positions.
"The top-three was not reachable today, but we'll work to try and understand what went wrong" said Leclerc.
"Melbourne is also quite a strange track which never really represents the reality of things. We'll work on our side but I don't think we're that far.
"We were quick in Barcelona so there is no reason our car isn't quick anymore. So I'm pretty confident that our pace is somewhere there."
Gallery: The beautiful wives and girlfriends of F1 drivers
Keep up to date with all the F1 news via Facebook and Twitter