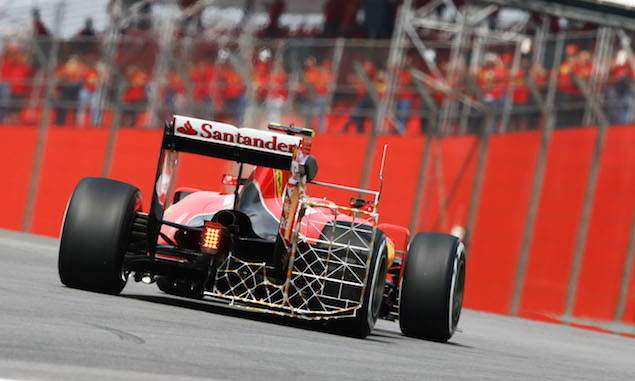 Kimi Raikkonen says Friday practice for the Brazilian Grand Prix was "quite messy" for him but he sees potential for Ferrari at Interlagos.
The Finn was fifth fastest in the opening practice session despite a fairly dramatic spin in to the gravel at Turn 4, before improving to fourth place in FP2. Reflecting on his day's work, Raikkonen said there were a number of interruptions which made it difficult for him to make progress with his car.
"In the morning, I had to do some aero testing in the first half and hour," Raikkonen said. "Then we had one run, then we had a small issue with the set-up and then I spun off.
"In the afternoon, a lot of things happening always when we went out. But we got some laps done but it was quite messy in all the ways. It didn't feel too bad on one lap."
Having suffered some problems with his clutch when trying practice starts, Raikkonen says he is still in the dark over Ferrari's race pace: "I don't know - it felt OK but we're still struggling a bit so we'll see."
Raikkonen's Ferrari team-mate Sebastian Vettel also described Friday as "a difficult day" for the team despite both cars finishing in the top five in both practice sessions.
FP2 REPORT: Rosberg turns the tables on Hamilton
AS IT HAPPENED: Brazilian Grand Prix FP2
Use the red tabs on either side of the screen to scroll through more Formula One news and features
Click here for Friday's gallery from the Brazilian Grand Prix
Keep up to date with all the F1 news via Facebook and Twitter