Mercedes strategist James Vowles admitted that the team's 'dummy start' tactic in qualifying in Baku put both Lewis Hamilton and Valtteri Bottas at risk of missing their final flyer.
In a bid to benefit from the perfect slipstream on their final run in the Saturday shootout, Bottas and Hamilton pulled over at the exit of the pitlane where the pair also "dummied" Ferrari rival Sebastian Vettel - the first driver to follow the Silver Arrows pair out of the pitlane - into believing they were going to undertake a practice start.
Mercedes boss Toto Wolff later revealed that the move had been planned, and had forced Vettel to run on his own without the benefit of a tow.
That stratagem proved effective for both Mercedes drivers but Vowles, speaking in the team's post-Azrbaijan GP Pure Pitwall debrief, acknowledged that it was high-risk enterprise.
"Over the last few races you've been seeing what we would call almost a Mexican stand-off in the pit lane," said Vowles
"Everyone has their engines fired up and everyone's looking at each other. But who's going to go first to go out on track? They will be the car that effectively leads others and creates the tow.
"In Shanghai you saw that we left very late and other cars weren't even able to do their lap because they were so keen on getting the tow that the flag came before they started their lap.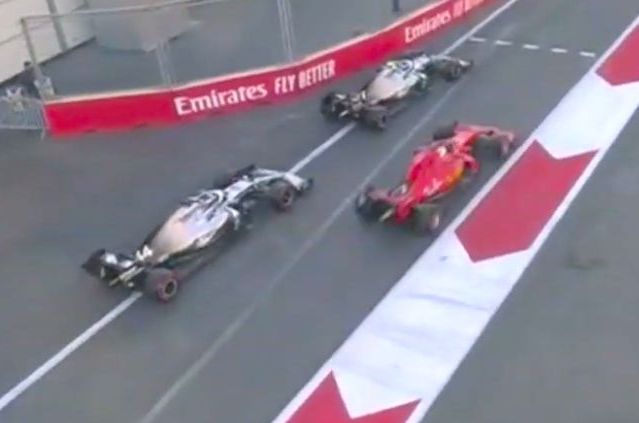 "In Baku we were very conscious that this effect could well dictate whether we were on pole or not .
"What we decided to do, therefore, was to send our cars out a little bit earlier which would pull the whole train of cars behind us.
"That worked. And then do a practice start on the left-hand side, simply so that we did not end up at the front of the queue, because we felt the effect was so powerful.
"This was taking an enormous risk. We only crossed the line several seconds before the flag as a result of this. But in this situation it worked.
"We pulled over to the left-hand side, other cars came past, Vettel led the pack and didn't have a tow on this particular occasion, allowing our cars to get into a nice position behind competitors and benefit both from a tow and a good track position."
As simple and productive as Mercedes' ploy appeared to be from the outside, it still required a fair amount of preparation according to Vowles.
"This sort of plan doesn't go without quite a bit of discussion beforehand, especially with the drivers to make sure they both understand, accept and agree the plan," said the British engineer.
Because for them it's very different, you're asking them to break up what is a normal routine of going out into qualifying three, a very high-pressure situation, and doing something different.
"We discussed it with the drivers in the morning, made sure that they completely understood what we may and may not do during qualifying, and again before they went out we briefed them so that they understood exactly what was required of them. And they did a fantastic job."
Gallery: The beautiful wives and girlfriends of F1 drivers
Keep up to date with all the F1 news via Facebook and Twitter