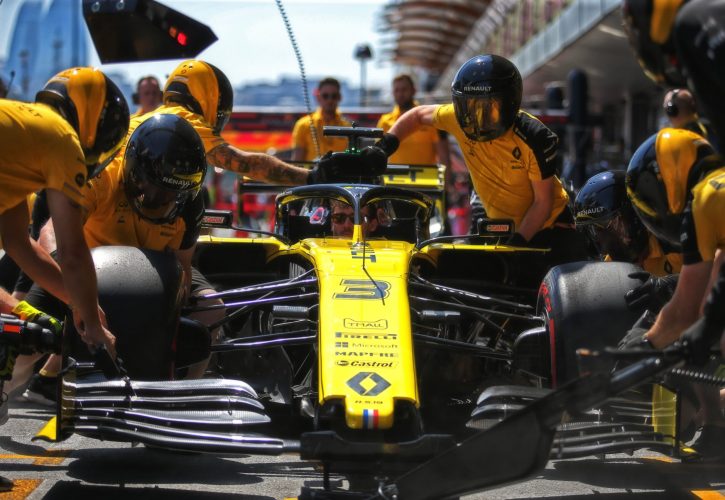 Renault F1 boss Cyril Abiteboul is convinced his team is "capable of much more" than what it has shown so far and targets Barcelona as a turning point for the French outfit.
Renault's ambition this year is to detach itself from F1's midfield and to reduce its gap with the leading contenders, but that objective fell well short of expectations in the first four races of the season.
The manufacturer has so far put only 12 points on the board, courtesy of a seventh-place finish each for Nico Hulkenberg and Daniel Ricciardo.
Abiteboul says Renault heads to Barcelona with the aim of finally putting itself in gear and racing at the level it belongs.
"The start of the European segment of the 2019 Formula 1 season is an opportunity for us to reset," said the French manager in his team's Spanish Grand Prix preview.
"Overall, it's been a tough start to the year and the Azerbaijan Grand Prix capped off a run of results that fell short of our expectations.
"We know we are capable of much more and we need to target clean weekends and races to make the most of our potential.
"To do so, we have work to do on all sides of our operation; chassis and engine on and off track, and work with the drivers to allow them to reach their respective capacities.
"We are motivated as ever to strive for more and we aim for a full recovery in competitiveness in Spain.
"We know that the midfield is tight, but this also creates opportunities. We've seen that fortunes can change in an instant so we go to Barcelona hungry to get our season campaign going."
As its rivals, Renault will implement updates on its R.S.19 in Spain, mainly centered around the front wing and rear of the car according to technical director Nick Chester.
"Most other teams will do the same, but we have a number of reasonable upgrades that are positive," said the British engineer.
"We have a few aero parts to add to the front wing and rear of the car. We are also looking at some mechanical tweaks to improve car balance.
"At this stage there is a development race going on between the teams, but we will keep pushing hard to get best from it each weekend."
Gallery: The beautiful wives and girlfriends of F1 drivers
Keep up to date with all the F1 news via Facebook and Twitter