Valtteri Bottas was fastest in Friday morning's first free practice session, the Mercedes driver edging the Ferrari duo of Sebastian Vettel and Charles Leclerc by a small margin.
Lewis Hamilton concluded his morning P4 after a relatively muted session while Haas' Romain Grosjean and McMLaren Carlos Sainz rounded off the top six.
For all teams F1's return to Europe after their four-race opening stint abroad is synonymous with upgrades.
From engine updates for Ferrari and Renault to aero changes for the entire grid, everyone was eager to validate the evolutions in the first practice session of the day.
After the usual series of routine installation laps, Red Bull's Pierre Gasly was the first driver to dare put a time on the board, the Frenchman undertaking a long run on hard tyres with a best lap in 1m21.016s.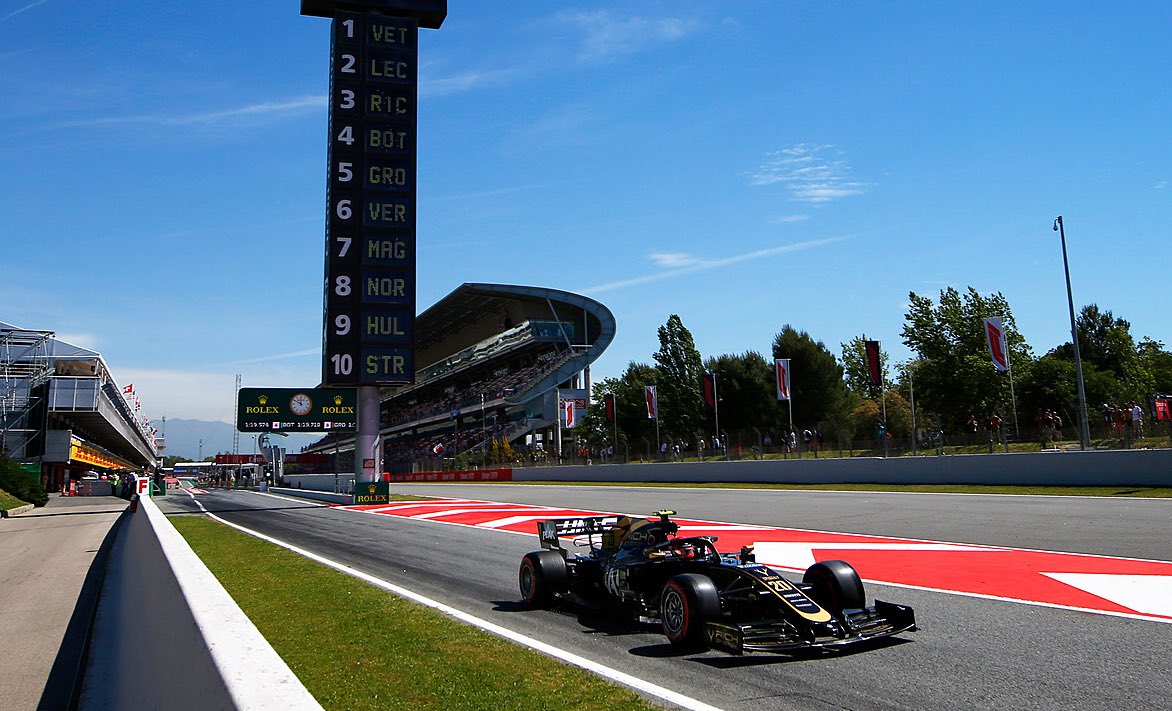 However, it was Haas' Romain Grosjean who was the early pace setter while Lewis Hamilton was the last man to take to the track, the Mercedes driver heading out onto the Circuit de Catalunya 20 minutes into the session.
After a few attempts from Leclerc and Vettel to overhaul Grosjean at the top of the timesheet, Valtteri Bottas lowered the benchmark time to 1m19.734s.
Thirty minutes in, the Ferrari pair really started to get going, with Leclerc and Vettel trading places at the top, the German temporarily settling the Scuderia's intra-team score with a 1.18.066s that edged Leclerc by 0.126s.
But an effort by Bottas on Pirelli's red soft tyre yielded the first sub 1.18 lap of the day. Meanwhile, Hamilton endured a rather subdued session until he bolted on a set of softs that sprung him to P4, 0.624s behind Bottas.
Overall, with the exception of a few drivers running wide on occasion and a visit to the kitty litter by Grosjean, it was a drama-free morning, with short runs the norm in the closing stages of FP1.
There was however an alert in the Red Bull garage where Max Verstappen's RB15 was seen leaking puddles of oil, signaling a premature end to the Dutchman's session, with only 14 laps completed.
Not to be outdone by Red Bull's issues, Bottas' car was also seen dripping oil in the Silver Arrows team's garage!
As everyone was prepping to wind down the morning and head to lunch, Racing Point's Lance Stroll was seen stranded in the barriers at Turn 9, the Canadian - fortunately unscathed - informing his team over the radio that he had "clipped the grass on entry", inflicting at first glance some pretty heavy damage to the front left suspension of his RP19.
The mishap brought out the red flag with only a minute left on the clock.
Gallery: The beautiful wives and girlfriends of F1 drivers
Keep up to date with all the F1 news via Facebook and Twitter