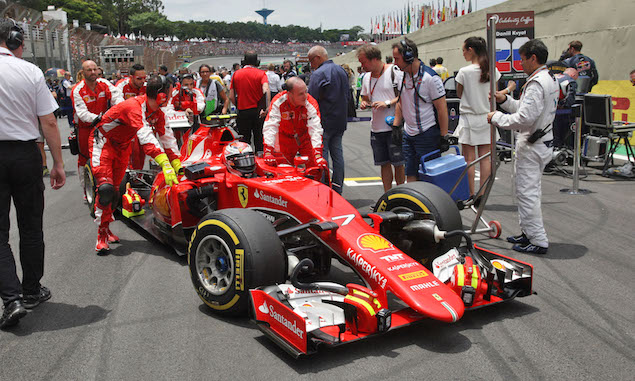 Kimi Raikkonen says he had "quite a boring race" on his way to fourth place in the Brazilian Grand Prix.
With the top four drivers all holding station at the start of the race, Raikkonen settled down in to a two-stop strategy while team-mate Sebastian Vettel pulled away on a three-stop. Having come home in fourth after a lonely race, Raikkonen said he struggled with the balance throughout.
"It was quite a boring race for me, in the end," Raikkonen said. "With the new tyres it was OK, but with old tyres I struggled a lot, especially with the front tyres. It was a bit tricky, but started fourth and finished fourth. The handling was not the nicest throughout the race but this is better than the last race."
And Raikkonen says there are a number of areas to improve on after failing to have a smooth day across the whole weekend at Interlagos.
"We didn't try any different things, we always try to avoid issues and maximise the result. It wasn't the easiest of weekends, anyhow, I wasn't so comfortable with some things on Friday, with the set-up. It was better yesterday but I had a mistake on my last lap in qualifying. Today I struggled bit with the tyres in the race so, in many ways, it could have been a lot better, but at least we finished the race this time. Now we just have to keep working and improve."