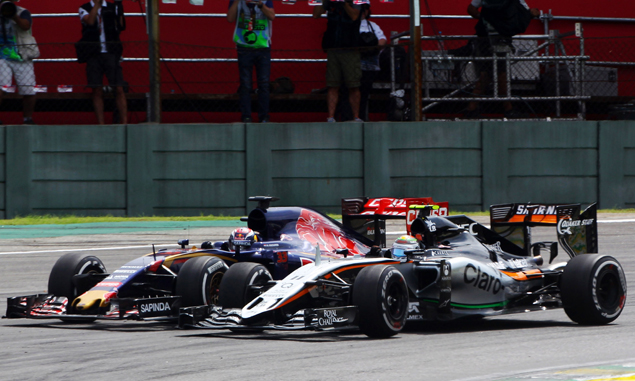 Max Verstappen thinks it is unfair to judge Lewis Hamilton's struggle to pass Nico Rosberg during the Brazilian Grand Prix in the light of his own overtakes at Interlagos.
The Toro Rosso driver was one of the standout performers in last Sunday's processional affair, pulling off several moves, including a daring manoeuvre on Force India's Sergio Perez through the Senna Esses.
So when Hamilton complained about not being able to overtake despite having the pace, many were quick to point out to Verstappen to undermine the triple world champion's argument. But the F1 rookie explains that racing another car is different to battling with your team-mate.
"With a Mercedes, maybe they have problems when they are very close to each other," Verstappen is quoted as saying by Motorsport.com.
"Plus, their speed is higher, and they both had good pace, so maybe it is more difficult for them.
"I know when the Toro Rossos are behind each other it is difficult to get past, so if you have the same type of car it is very hard."
Although his Renault power unit did not allow him to match his rivals in a straight line, Verstappen explains that he was able to use the strengths of his STR10 to line them up.
"We have very good cornering speed, so if we are behind a Lotus, Sauber or Force India we catch up in the fast corners, even when we are behind," the 18-year-old added. "So that is different for sure.
"For [Mercedes], it is equal everywhere: on the corners and the straights. When your car is exactly the same as your teammate and you are behind, it is very tough.
"And when you are behind, you lose a lot in the fast corners. So I can understand Lewis saying that."
REPORT: Rosberg keeps Hamilton at bay to win in Brazil
AS IT HAPPENED: Brazilian Grand Prix
Use the red tabs on either side of the screen to scroll through more Formula One news and features
Click here for the Podium gallery from the Brazilian Grand Prix
Keep up to date with all the F1 news via Facebook and Twitter