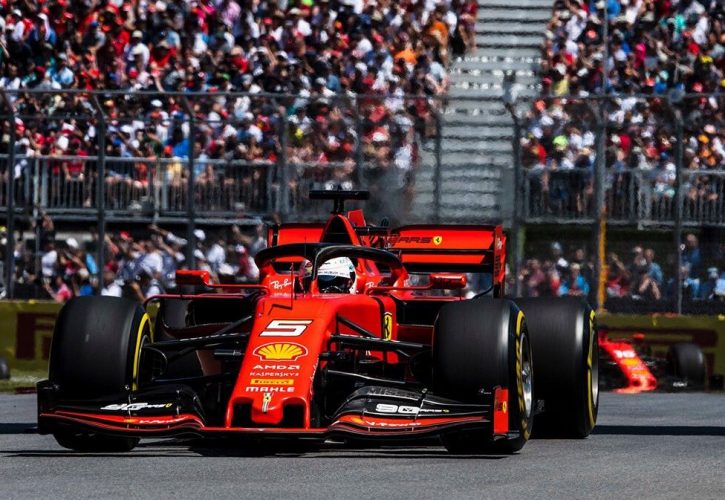 Scuderia Ferrari boss Mattia Binotto says the weaknesses that have dogged the Italian outfit's 2019 contender this season did not suddenly disappear in Canada.
Ferrari's status as pre-season favourite was blown to pieces at the outset by Mercedes which has won all seven races contested so far.
Maranello's SF90 has held an advantage of its German counter-part in terms of power but that edge hasn't been enough to offset Ferrari's difficulties in exploiting its tyres.
Binotto believes that Montreal's specific characteristics reduced the impact of weaknesses which otherwise remain embedded in its SF90.
"We know it is a circuit that is more power sensitive, and it is rear limited not front [limited] like Barcelona," explained Binotto last weekend. "So it is more similar to a Bahrain than a Barcelona.
"We knew that coming here we would be closer to Mercedes, but how much closer I don't think we had any clue.
"I think the Friday performance relative to them was difficult, and the track improvement through the weekend, with more grip on the track, somehow we coped with the weaknesses we have.
"But the car as a matter of fact is exactly the same as it was in Spain. No upgrades since then, so let's say the weaknesses we have are still here on the car. It is as simple as that.
"We need to work and try to improve, because there will be other races that are not Canada. We need to keep fighting and challenge them."
With Pirelli's thinner-tread tyres set to remain a constant for the remainder of the season, Ferrari is hard at work developing new concepts and upgrades set to be trialed in the future.
However, Binotto warned recently that there was no "magic solution" to the Scuderia's performance issues.
"I think we need to certainly improve ourselves race by race," said the Scuderia boss.
"We've got some programmes which have been launched back at Maranello to eventually address the issues we've seen in the last couple of races."
Gallery: The beautiful wives and girlfriends of F1 drivers
Keep up to date with all the F1 news via Facebook and Twitter