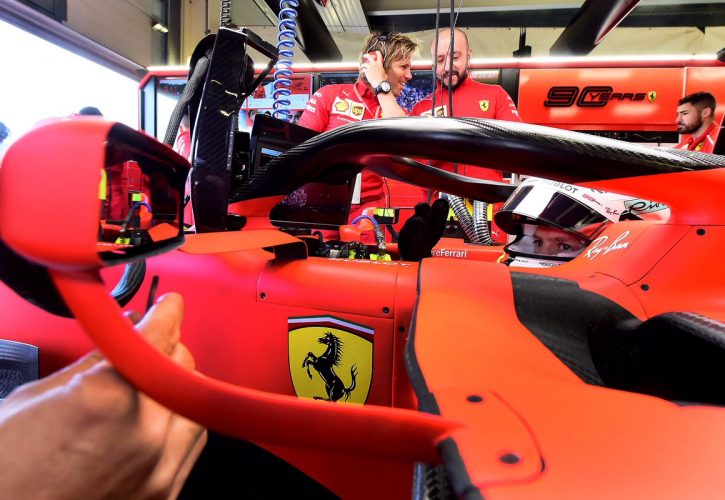 Heading into qualifying, Ferrari had set itself up as a strong challenger for pole position for the British Grand Prix with Charles Leclerc and Sebastian Vettel topping the times in final practice.
But their pace fell away over the three rounds of qualifying on Saturday afternoon. While Leclerc topped the times in Q2 he could only manage third fastest in the final round putting him behind Valtteri Bottas and Lewis Hamilton on the grid.
Meanwhile Vettel never featured higher than fifth place during qualifying, and at one point appeared close to being eliminated at the end of Q2.
Vettel ultimately salvaged a sixth place starting position for Sunday's race behind the two Red Bulls, but he was almost seven tenths slower than the two Mercedes drivers. It means he the team have their work cut out overnight to figure out where their pace went.
"I just didn't have the speed," he told the media after the end of qualifying. "At least I took part!
"Usually it's pretty clear that you go faster from Q1 to Q3 without doing anything, but that didn't happen today.
"[But] in Q1 we were as fast as in Q3, so it was a bit strange. I didn't have a great feel for the car which just didn't come.
"I didn't really have a great feeling this afternoon," he added. "And part of it, around here, is that you need a bit of it to throw the car from one side to the other."
Vettel said he couldn't explain why he was also so far behind his team mate throughout today's qualifying.
"I think he did a good job," Vettel shrugged. "But for me I don't really have an answer now. I think it's fairly evenly spread, he seems to gain a bit everywhere."
Leclerc himself was disappointed not be be able to break the Silver Arrows front row lock-out, but said that he'd got the most available from the SF90 today.
"Third place is the best we could have done today so I'm very happy about it," he told Sky Sports F1 after the session.
"In Q2 we were going well," he added. "But in Q3 I think Mercedes turned up their engine as they were very very quick. We need to work on the corners."
Team boss Mattia Binotto seemed happy with how the team had fared in qualifying despite Vettel's disappointing grid position.
"We did a good qualie especially if you think what was the situation yesterday, where we were suffering quite a lack of balance on the car and wearing the front tyres.
"The situation looked quite difficult yesterday, but we reacted well and worked overnight - simulators, engineers. Today the set-up was certainly an improvement, getting more grip.
"Not the front row, but very close," he said. "[Charles] did a fantastic lap, nothing more left. But when the gap is so close I think everything is possible.
"Sebastian was a bit less comfortable with his qualie and his setup. Something we need to analyse in the data. Certainly not as good as Charles. Pretty sure that he could have done better today but it's something we'll have to look at."
There will be a split in strategy between Ferrari and Mercedes at the start of Sunday's race. While Bottas and Hamilton will be on medium tyres, Ferrari have elected to use soft tyres for the opening stint for both their drivers.
Binotto insisted that they weren't worried about the strategy, or by signs on Friday that the Ferrari was working its tyres particularly hard at Silverstone.
"We made a very similar choice in Austria, and we performed well. We believe the soft tyre is the right choice for the first stint of the race. We'll only know for sure tomorrow, but it's something different from the others and maybe it will come to our benefit."
Vettel was certainly hoping that the tyres would help him battle back to the front when the lights go out on Sunday.
"In the race normally it's fine," Vettel suggested. "The Mercs will be quick but I believe our race pace looks fine. It's been fine all year more or less
"We'll see what happens. It will be a tough battle between us and the Red Bulls," he said."Not happy today, but even more looking forward to tomorrow."
Gallery: The beautiful wives and girlfriends of F1 drivers
Keep up to date with all the F1 news via Facebook and Twitter