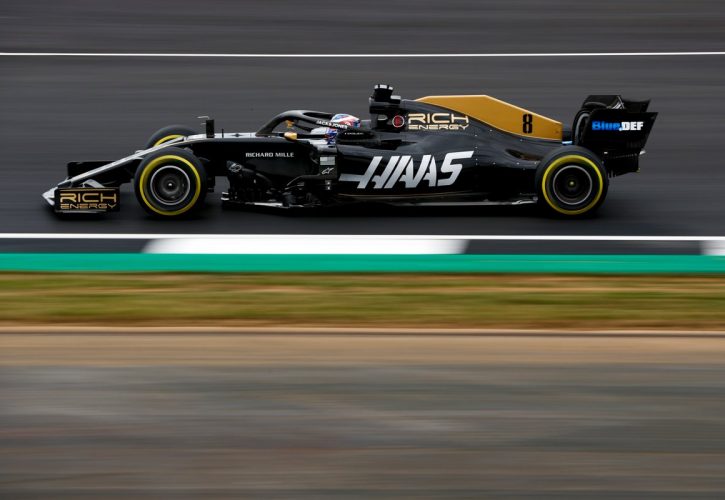 The Haas F1 Team will likely continue to split the specifications of its VF-19 between its drivers in Germany in two weeks as the team wants more time to analyse the data from its weekend at Silverstone.
In a bid to improve his performance and feeling of his car, Romain Grosjean suggested a return to the original aero package fitted to the VF-19 in Melbourne.
Haas duly reverted the settings for the Frenchman but kept Kevin Magnussen's car in its current updated version.
Grosjean outpaced Magnussen in qualifying, although both men will start their British Grand Prix from a lowly position.
"Honestly I feel a lot better on the old one," confirmed Grosjean.
"Personally since we've introduced the new one I haven't really felt comfortable, especially into the high-speed corners and the high-speed entry.
"So that's come back to me with the old package and I can just hammer it down through the high-speed corners.
"The downforce is much less, we can measure a loss of downforce in a straight line. So there is some understanding that needs to be done, there is some studying we are going to do."
Haas will implement more updates for Hockenheim, so the original Melbourne package will likely be measured against Magnussen's specs.
"There are some big weaknesses on the old one that we were aware of in winter testing, and some of them were really addressed with the new package," added Grosjean.
"But obviously the new package doesn't quite deliver in terms of laptime as much as it should.
"So where is it, what can we do better, what can we understand, what are the next steps?
"Those are the discussions we're going to have next week I guess and try to grow with the boys, and look piece by piece which one is doing the thing it should be doing."
Magnussen admitted to being surprised by Grosjean's slightly superior better performance in qualifying and even hinted at an issue on his side of the garage that may have hindered his speed.
"I feel like he's been too close to me considering I have the upgraded car all weekend," the Dane said.
"And then in qualifying, he got ahead, but I think something must have gone the wrong way for us in our side of the garage between FP3 and quali."
Haas team boss Guenther Steiner said the VF-19's update for Hockenheim won't be as significant as the evolution that was introduced in Barcelona, but it will warrant a compare with Grosjean's Melbourne spec.
"It's always comparing square one with what is the latest and greatest," Steiner explained.
"It is not as substantial as it was in Barcelona, but it's a substantial upgrade.
"This [Barcelona spec] will be forgotten. And then we need to compare what we have got, because maybe that spec solves the issue, so there is no point to compare with this one, because this one is the one we are not the happiest with, or the drivers are not happiest with."
Gallery: The beautiful wives and girlfriends of F1 drivers
Keep up to date with all the F1 news via Facebook and Twitter