The harmonious friendship that characterizes the relation at McLaren between Carlos Sainz and Lando Norris will be tested at some point predicts 2016 world champion Nico Rosberg.
Sainz and Norris form an entertaining and talented duo at McLaren, and both men are contributing nicely to the Woking-based outfit's long-awaited resurgence that is unfolding this season.
But off the track, the pair enjoy a good chemistry, bonded by their complicity and humour, and Norris's tongue-in-cheek facetious personality.
"I guess you see a lot of stuff on TV where team mates are laughing with each other and everything, but as soon as they go behind closed doors they, like, hate each other," said 19-year-old Norris, speaking to Reuters.
"That's all fake, but I think we're just good friends. We get along, we have fun.
"I don't know if it's something he's always had, but it's definitely something I've always had with my team mates 99% of the time."
Sainz says his relationship with his young partner-in-crime is but a component of the positive atmosphere that prevails at McLaren and which serves the team's interest.
"Outside of the track, I think there's no point in being selfish, in being that kind of team mate," Sainz explained.
"At the moment McLaren is going through a period that if you start being selfish, it's just not going to help the team.
"The atmosphere we are living in the team right now, the positivity, the momentum, the motivation we all have...
"I think Lando and I have realized it's for our own benefit to keep this thing going until hopefully we can make it back to the top. And then we'll see."
Watching from the outside, one man is unconvinced the bro love between Sainz and Norris at McLaren will last.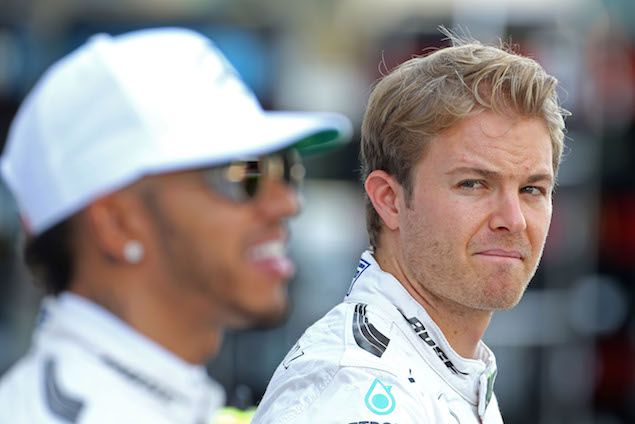 Nico Rosberg, who dealt with both Michael Schumacher and Lewis Hamilton as team mates in his career, believes tensions will set in when the stakes rise. And that will happen when McLaren moves further up the grid.
"They are racing for 10th place. If they were racing for a world championship, it would change rapidly, mark my words," claims Rosberg whose longstanding friendship with Hamilton crumbled under the massive pressure of competing for the title.
"You can't be friends. You can only be friends if there is a clear number one and two," he added.
"If you have got two guys who are trying to beat each other, it is impossible to be friends.
"You are so ego-driven and within a team, the politics going on are so big.
"You are fighting for a world championship and there's so much at stake that unfortunately that becomes more important than friendship."
Gallery: The beautiful wives and girlfriends of F1 drivers
Keep up to date with all the F1 news via Facebook and Twitter