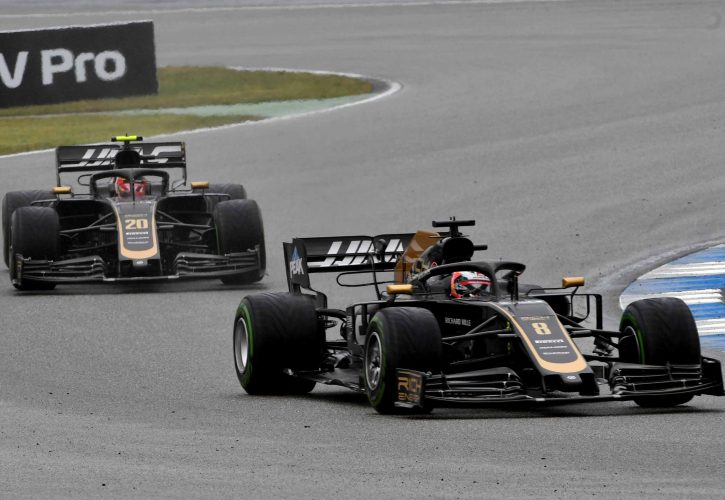 Haas has confirmed that it will once again run its VF-19 car in two different configurations in Hungary as it continues to investigate its car's relatively weak race pace.
Haas' successive updates during the first half of the season failed to deliver consistency to its car's performance in qualifying and race trim.
The confusing discrepancy incited Romain Grosjean to request a return to the VF-19's Melbourne specification, a demand that was duly granted for the British Grand Prix where teammate Kevin Magnussen ran with an updated car.
The comparison between the two specifications was cut short following a clash between the Haas drivers on the opening lap at Silverstone.
At Hockenheim, both cars saw the checkered flag, with Grosjean leading home his teammate. However, the team wasn't any closer to elucidating its race pace riddle.
"We still haven't come to a conclusion as to what is actually happening on our race pace – where we seem to be slow, but can do a good qualifying lap," said team boss Guenther Steiner.
"So, we've decided to run again in Budapest – Grosjean with the Melbourne spec and Magnussen with the Hockenheim spec."
Formula 1 will enjoy a well deserved multi-week shutdown after Hungary, but it likely won't be much of a holiday for Haas' engineers who will be digging into all the data collected recently to define the VF-19's optimal specification for Spa at the end of August.
"You take all the data and just try to compare where we can improve and see where we went off the plan," added Steiner.
"At the beginning of the season we were looking very competitive, then in the races after Melbourne, that's not been the case anymore.
"So, we need to understand what went sideways, and that is what you do when you compare two specs of car.
"Hopefully, we can get as much information as possible and come to a conclusion in which direction we need to work."
At Hockenheim, Grosjean expressed once again his preference for Haas' Melbourne spec although the Frenchman recognized its potential limitations in terms of performance.
Ahead of next weekend's race, Grosjean was candid about his prospects.
"We don't really know how it's going to go," he admitted.
"We take everything race-by-race at the moment. For now, we're in an experimental time as the car has been quite tricky to understand."
"At some tracks where we thought we'd do well, we did not, and other tracks where we thought it was going to be a bit more tricky, things actually worked better. So, let's just go race-by-race."
Gallery: The beautiful wives and girlfriends of F1 drivers
Keep up to date with all the F1 news via Facebook and Twitter