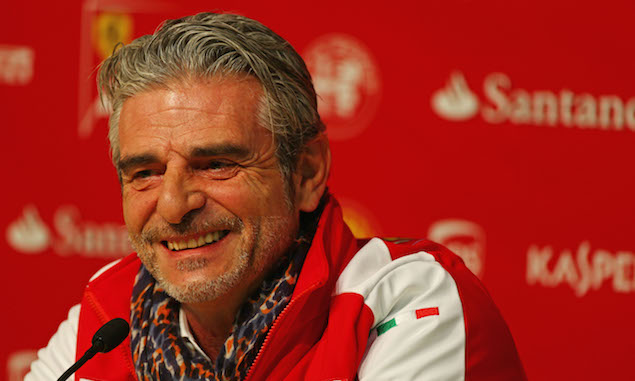 Ferrari team principal Maurizio Arrivabene says he will not change the team's targets despite a strong start to pre-season testing.
Having been quickest on three out of the four days during the first test at Jerez, Ferrari continued its strong form with Kimi Raikkonen second fastest on day one at Barcelona and similarly placed on the second morning. However, Arrivabene says he's not willing to revise Ferrari's targets for the season, sticking by his aim of two victories for the Scuderia this year.
"I'm not so crazy to change the objective now!" Arrivabene said. "The objective stays the same, to win two races that's fine. Three would be perfect, or four races I can run without shoes 100km up the hill to Maranello!
"So the objective is still the same. Of course, the drivers are looking to win every race, this is their job and what they're paid for. I want to keep people's feet on the ground and be realistic. This is still our objective, the one we were hoping for. That's it, we will see in the season. I'm not hiding anything [the other teams] are hiding, not me!"
Last year, Ferrari failed to win a race in a season for the first time since 1993, with Fernando Alonso scoring just two podiums for the team all year.
Follow live coverage of the second test here.
Click here for the gallery from day one of the second test
Keep up to date with all the F1 news via Facebook and Twitter