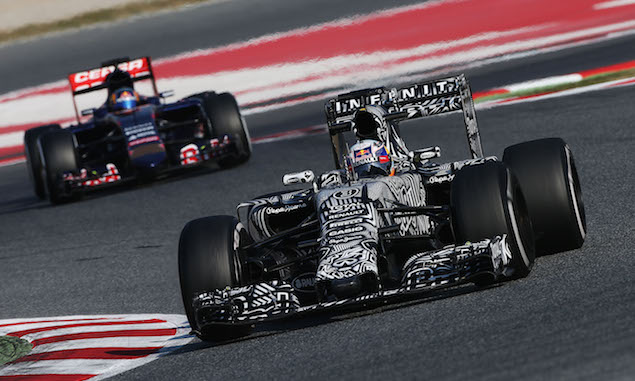 Daniel Ricciardo set the fastest time of a positive second day of testing for Red Bull at the Circuit de Catalunya.
Following reliability issues which had limited running throughout the first five days, Ricciardo enjoyed two strong sessions at the Barcelona circuit as he set the fastest time in the morning using the soft compound tyre and then added significant mileage in the afternoon.
Red Bull ended with 143 laps under the RB11's belt, with early pit stop practice followed by an attempted race simulation in the final four hours. Ricciardo's race run was interrupted by a red flag when Carlos Sainz Jr spun in to the gravel at Turn 9, but he still returned to complete the 66-lap distance.
Unchanged fastest times from the morning meant once again there was a Ferrari in the top two as Kimi Raikkonen - who described the SF15-T as "a very nice car" - finished the day just 0.010s slower than Ricciardo.
Felipe Massa was third quickest on what was an extremely close day in terms of headline times. Taking over from Susie Wolff, Massa completed 88 laps and was less than 0.1s slower than Ricciardo. Massa even had time for a visit from Brazilian footballer Neymar in the garage during the day as Williams enjoyed a solid amount of running.
Massa's best time came in the afternoon, knocking Sergio Perez down to fourth place. With Force India using its 2014 car, Perez was able to comfortably complete more than 100 laps and his morning best of 1:24.702 left him just over 0.1s off the fastest time.
Mercedes changed its plans after a productive morning for Nico Rosberg - who announced he is to become a father before the day started - with Lewis Hamilton taking over the car for the afternoon session. Hamilton had completed 11 laps on day one before withdrawing due to illness, but he made up for lost time by completing an impressive 89 laps in the afternoon including two long runs on hard tyres in what resembled a race simulation.
Hamilton's long run was interrupted by Sainz Jr's off, but he returned to post the fifth quickest time of the day which was within 0.35s of Ricciardo's best. The two Mercedes drivers were next to each other on the timing screen, with Rosberg's quickest lap 0.6s slower than his team-mate.
Following the eventful day opening day, Friday saw improvements for the majority of teams including McLaren. Fernando Alonso was in the car and a new MGU-K seal - the cause of Thursday's stoppage - was ready earlier than expected, allowing the team to carry out 59 laps on what was the most productive day in terms of mileage for Honda.
Jolyon Palmer made his Lotus debut, carrying out aero runs in the morning session before posting some quicker lap times in the afternoon. His running was not without incident, though, as a big moment at Turn 8 displayed just how hard Palmer was trying to impress his new team.
While Ricciardo caused a very brief red flag at the start of the day by stopping at the end of the pit lane, it was Marcus Ericsson and Sainz Jr - the bottom two in terms of lap time - who brought running to a temporary halt for any meaningful period of time. Ericsson stopped in the final hour on the pit straight as his car rolled to a standstill, while Sainz Jr's spin at Turn 9 left him beached in the gravel for nearly 15 minutes.
Full times and the second day as it happened
Click here for the gallery from day two of the second test
Keep up to date with all the F1 news via Facebook and Twitter