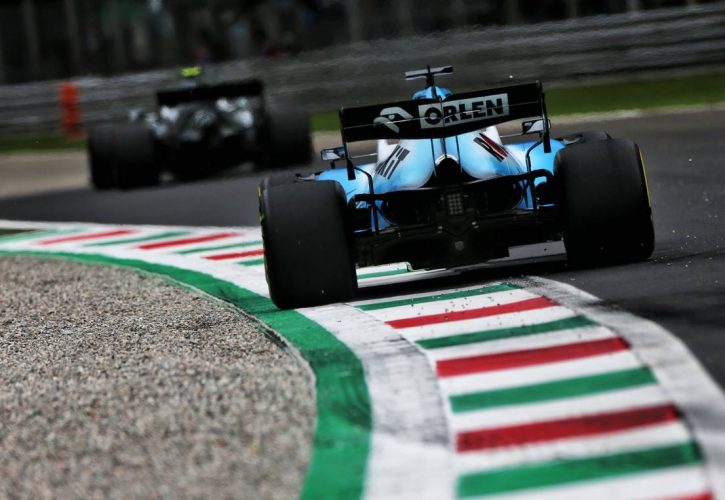 Williams' George Russell says the search for the ultimate tow in qualifying could produce "a mess" in Saturday afternoon's grid-defining  session for the Italian Grand Prix.
Monza's high speeds and low-downforce characteristics typically encourage drivers to run in the slipstream of a rival where gains of up to five tenths of a second may be found.
But the tactic requires perfect timing, meaning drivers will undergo a slow out lap, or slow out on the track and wait to be overtaken by a car travelling at full speed before jumping in its wake.
Russell fears strategic track positioning and slipstreaming antics could lead to potentially chaotic situations.
"Chaos, definitely! It's a fine line. If you nail the slipstream, there is at least three, four, five tenths to be gained," said the Williams driver who concluded his FP2 session on Friday P20.
"The thing is, trying to go for the perfect slipstream, no one will want to be at the front and you get a bit of a train on the warm up lap.
"And the next thing, people will be losing tyre temperature and it's going to be a mess. We wait and see! I can't wait!"
A calculated attempt at slipstreaming, even among teammates, isn't without risk, as McLaren F1 boss Andreas Seidl explained.
"It is something we have to figure out what we want to actually do," the German said.
"There's always the risk that you try to be too clever and you disturb in the end one or the other driver in terms of preparing his lap and having the full focus.
"So it's something we'll work out tonight and tomorrow in Free Practice 3 and work out if we want to use it or not."
Lando Norris might well provide a tow to Carlos Sainz in qualifying given the McLaren rookie's grid penalty and mandatory start from the back row on Sunday.
"Well on our side, it's quite an easy qualifying tomorrow; we have Lando starting at the back of the grid on Sunday so I think if we want to use it, it's clear that we want to help Carlos," confirmed Seidl.
"But then again, it's something we'll have to work out, because we have seen several times, not just on our side, but with other teams, that it can also go badly wrong."
Keep up to date with all the F1 news via Facebook and Twitter