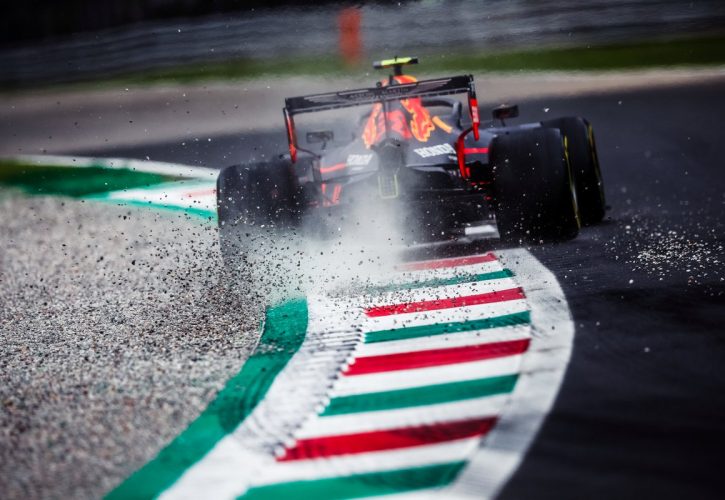 Red Bull's Max Verstappen hailed the improvements achieved by Honda, labeling the manufacturer's latest Spec 4 engine "a good step forward" after Friday's opening day of running at Monza.
Verstappen was the recipient of the new unit in Italy along with Toro Rosso's Daniil Kvyat, while Alex Albon and Pierre Gasly were given the engine last week in Belgium.
The Dutchman clocked in fifth fastest in Friday's FP2 session, 0.372s behind pacesetter Charles Leclerc, but gave a thumbs up to Honda's upgrade.
"It was a good day," said Verstappen. "Of course, the conditions were a bit tricky out there, but the car was working really well and we seem quite competitive on a track that doesn't normally suit us.
"Around Monza, the real lap time is hard to see because of the tow but my fastest lap was done on my own and it felt good.
"I definitely think this new engine is a good step forward and you can feel the extra power which is positive."
Verstappen's engine change has come at a cost unfortunately as the 21-year-old will launch his race on Sunday from the back of the starting grid.
"We know we won't battle in qualifying as we will start at the back but looking at the long runs the pace was good and the car felt really nice to drive in all conditions which is always a big bonus," he added.
"I would probably choose rain for Sunday starting at the back, as we will have a better chance of coming through the field, but even in the dry we can still be competitive and we will try to make a fun race out of it."
Alex Albon, who concluded his afternoon P6, just behind his Red Bull teammate, underlined the session's tricky and mixed conditions, a blend that drivers are likely to encounter on race according to the latest weather predictions.
"We had mixed conditions, so we started out quite slowly but built up our confidence throughout the day," said the British-Thai driver.
"We are expecting similar conditions on Sunday so that is why everyone was out there trying to do some laps.
"I found the short runs were more positive than the long runs and, after today, I have a good idea about the things I need to change and work on for Sunday's race.
"Of course, it's not easy adjusting to less downforce, the braking feels different, but overall it didn't feel too bad.
"I'm just finding my feet and that makes it important to get everything right. We will see what tomorrow brings but after today I'm feeling pretty good."
Keep up to date with all the F1 news via Facebook and Twitter