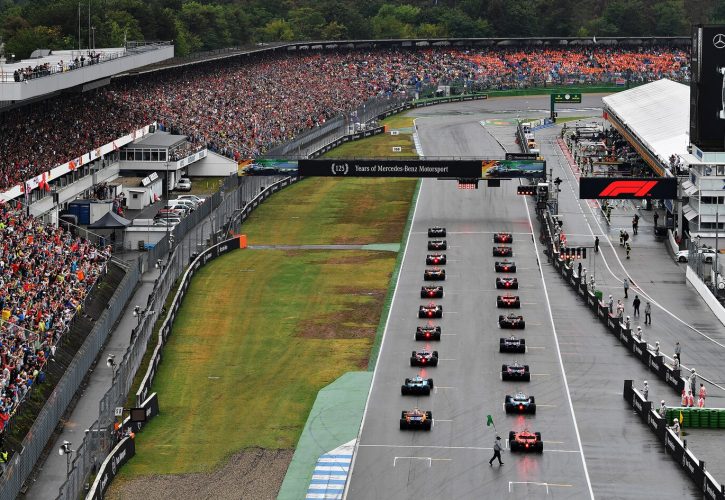 F1 teams are debating along with the FIA and Liberty Media the merits of a few alternatives to the sport's current grid penalty system for exceeding power unit element limits.
Potential substitutes to grid drops which have been tabled include time penalties, ballast and fuel restrictions
Renault's Cyril Abiteboul stated a case for time penalties, arguing such a scheme would at least encourage penalized drivers to take part in qualifying, where as the current system takes away any incentive to run on the Saturday afternoon session.
"Our position since a while hasn't changed," said Abiteboul, speaking in Friday's team boss conference in Singapore.
"We're suggesting a time penalty that you would serve under your pitstop or would be added at the end of the race.
"It would encourage better racing without altering the starting position, without altering also qualifying. I don't understand why it's not more commonly supported, but there must be a good reason."
McLaren boss Zak Brown was on the same page as his Renault counterpart
"I think a time penalty is pretty clean to understand," said Brown.
"It doesn't really mix up the grid, you serve it at your pitstop.
"Strategy comes into play, when do you pit, tyres, etc, that I think would be the simplest and least disruptive and easier to understand and add some excitement to the race."
Red Bull's Christian Horner agreed that drivers should be requited to take part in full in qualifying, but dismissed a ballast alternative.
"We've seen in other categories it doesn't work," Horner insisted. "It screws your whole weekend, not just qualifying.
"I think the only shame about what we have at the moment is it potentially robs the fans on a Saturday of drivers going for a qualifying position.
"If you look at Monza, Max [Verstappen] taking part for a couple of laps in Q1, and not wanting to progress past Q2 – I think if we can find a more balanced penalty than just straight to the back of the grid we should consider it, so that you're still encouraging drivers on a Saturday to be going for a qualifying position."
Haas boss Guenther Steiner underlined the potential confusing issues a ballast system would pose for spectators.
"Ballast is more difficult even to explain to spectators, when all of a sudden a car goes slower than the other ones," said the Italian.
"We need to to find a penalty system that is severe enough. But I think at the moment it isn't working too bad. I prefer this one [grid drops] than ballast."
Gallery: The beautiful wives and girlfriends of F1 drivers
Keep up to date with all the F1 news via Facebook and Twitter