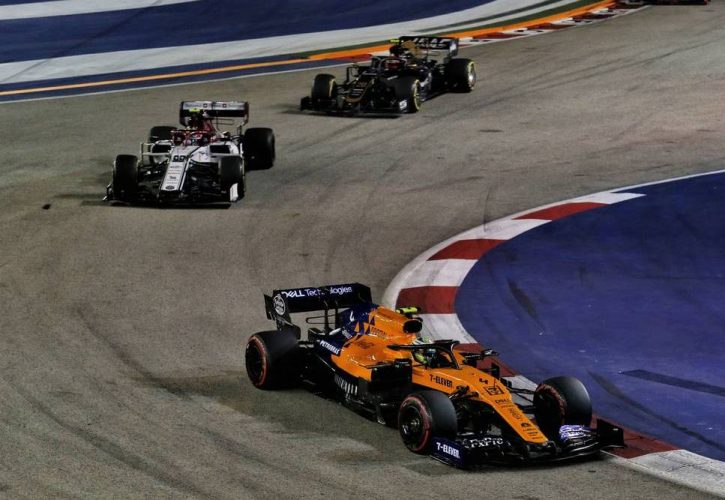 Lando Norris finished his Singapore Grand Prix a strong seventh, but the McLaren rookie was critical of the early stages of the race when tyre management compelled the field to run "under the limit".
The 61-lap race around Marina Bay is typically one of F1's most physically demanding events, but thanks to a "relaxed" opening sting and several safety car periods Norris didn't feel the pain.
"I'm tired but, because the first 30-laps were so under the limit - literally just driving around trying not to lock up or understeer - it was fairly relaxed, we must have been three or four seconds per lap off a normal pace," said the 19-year-old.
"It was more like a 20-lap race. It was kind of nice because I'm not as tired as what I could have been, but it's not racing.
"We're just sitting there doing nothing. It's boring, it doesn't look good for anyone, but it's just because the tyres are so bad."
Overall, Norris rated his performance as one of his best so far this season, extracting the most from his car and the circumstances.
"I don't think we could have done a lot better today," Norris said.
"It was still not a straightforward race, I still had to push and work for it at certain times but the rest of it I could relax a bit more apart from the final ten laps when I came under a bit more pressure."
Norris finished a little over 3 seconds behind Red Bull's Alex Albon but just a whisker ahead of Toro Rosso's Pierre Gasly and Renault's Nico Hulkenberg.
"Alex and mine's pace was fairly similar, he was a bit quicker, but Gasly and Hulkenberg were a lot quicker.
"I think they had new tyres, new mediums, so they were putting me under a lot of pressure.
"I think I was a lot more stressed from behind than maybe what Alex was. I still tried but Alex didn't make any mistakes so fair play to him.
"It was still a stressful last 10 or 15 laps but we held on and I did what I needed to do."
Gallery: The beautiful wives and girlfriends of F1 drivers
Keep up to date with all the F1 news via Facebook and Twitter