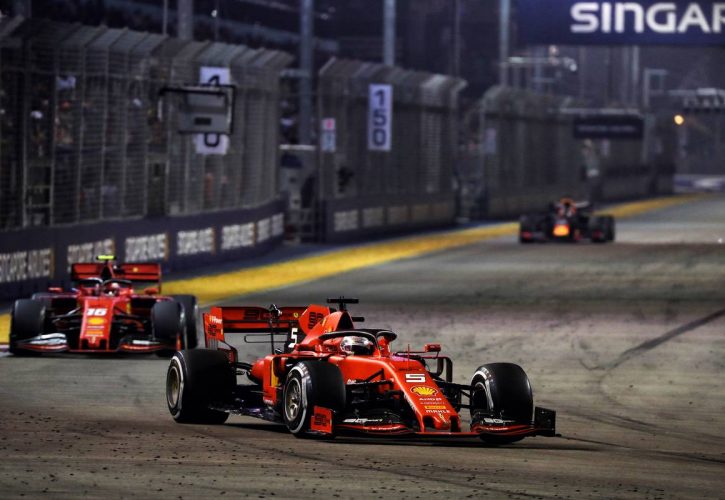 Ferrari team principal Mattia Binotto has explained why the team opted to call in Sebastian Vettel very early during Sunday's Singapore Grand Prix.
With the early laps of the race having proved particularly slow, the decision allowed Vettel to undercut his team mate Charles Leclerc who had been leading for the first 19 laps of the race.
"It was a very late call obviously," Vettel said of the team's move to bring him in on lap 14. "I thought it was a bit early because I wasn't sure whether we could make the tyres last in the second stint.
"But obviously I gave it everything in the outlap because I saw the two cars in front of me not pitting, especially Lewis." he added. "I was very surprised a lap later to come out ahead. Then I was trying to go through and slice through as quick as I can to get a cushion and control it at the end."
In contrast Leclerc was very definitely not happy with the decision to pit Vettel so early which cost him his chance of a third consecutive race victory. Over the team radio he said it was "unfair" and that he would be seeking an explanation from Binotto after the race.
Binotto said that the team had been forced to bring Vettel in on lap 14 in order to guard against an early stop from Red Bull's Max Verstappen.
"When we stopped Sebastian, Verstappen was ready to stop so we had to protect his position," Binotto told Sky Sports F1 after the race.
"It was the best opportunity for us to overtake [Lewis] Hamilton and as well later we would have stopped Charles and the pit crew should have been free for him. So that was the right time to stop Sebastian, no discussion.
"When he went out, he went very well on the fresh tyres. That's simply racing and that's how he ended up in front of Charles."
Binotto added that in the circumstances it had been impossible to give Leclerc the option to pit first.
"We couldn't stop Charles at that stage," he insisted. "If you are leading the race, you will not stop first, but it ended up being the proper window for Seb."
Binotto said he'd spoken to Leclerc's manager Nicolas Todt about the team's handling of the race strategy.
"I told him that I know Charles is annoyed and frustrated, which is a positive - if you're a driver, that's the right attitude to have," he said.
"But the scenarios are bigger. By the time that he understands the big picture I'm pretty sure he will understand the choice.
"It's important for me that he's happy as well. Happy for the team. It's a 1-2. But obviously for him it's a missed win but I'm pretty sure there will be more in the future."
Binotto said he wished that there was a bit more time for the team to enjoy its success, given that it's straight on to Sochi next weekend.
"It's a shame it's always a back-to-back," he said. "Spa was a back-to-back with Monza and here is back-to-back with Russia so there's very little time to enjoy and celebrate.
"But very happy to win here, and on a very different type of track," he added, pointing out how different Marina Bay is compared to Spa and Monza. "Slow corners, low speed, I think it wasn't expected."
If the SF90 had only been as strong as this in the first half of the season, Ferrari might have a better chance of overhauling Mercedes in the constructors championship in the remaining six races of 2019.
"We were unlucky at the start of the season and too lucky now," Binotto suggested. "On average we should have won some races we didn't and had some missed opportunities.
"Now we're lucky to get three wins in a row, and lucky that it's been so close. So close it could go one way or the other."
Gallery: The beautiful wives and girlfriends of F1 drivers
Keep up to date with all the F1 news via Facebook and Twitter