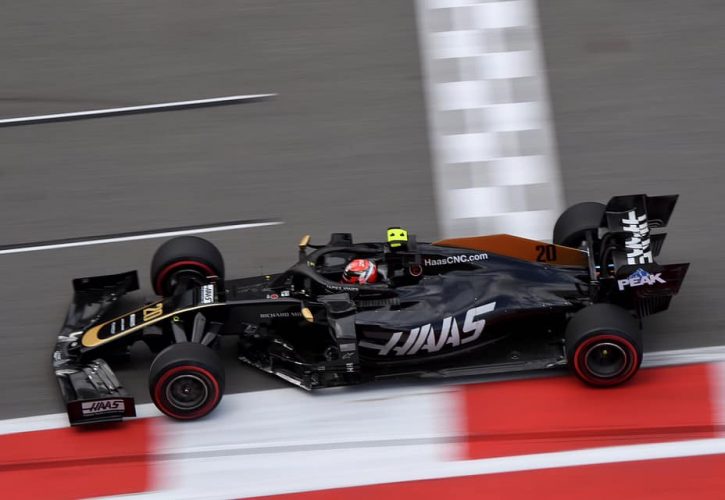 Ross Brawn says Haas is a "valuable asset" to F1, not only as a component of the sport's growth in America but also as an example of a viable project that has established itself in Grand Prix racing.
Haas joined the grid in 2016, exploiting a business model that relies on a close technical partnership with Ferrari and on outsourcing chassis work to Dallara.
Despite the team's budget being among the smallest in F1, Haas has acquitted itself well since it entered Grand Prix racing, finishing fifth in the Constructors' standings in 2018.
However, this year's campaign has been undermined by the VF19's mystifying tyre issues - a familiar plight at Haas - which have blunted the team's ability to perform consistently.
But last weekend in Russia, a spirited drive by Kevin Magnussen allowed the team to put a couple of points on the board, a feat that delighted Brawn.
"Kevin Magnussen's ninth place, even though it came after a five-second penalty, was the first time the team had scored since Germany," Brawn said.
"It was a shame that Romain Grosjean, who was brilliant in Saturday's qualifying, took virtually no part in the race, as he was the innocent victim of a collision with Antonio Giovinazzi shortly after the start."
Brawn would like nothing more than to see the US outfit shine at its home race at Austin next month and help Formula 1's bid to improve its popularity in America.
"Gene Haas' team is a valuable asset for Formula 1," insisted the Briton.
"It is the first example of a new team establishing itself in a sport that for too many years has seen teams come and go in a short space of time, without ever really making their mark.
"It's also important because it flies the US flag in a sport that is generally Euro-centric," added Brawn.
"It is vital for Formula 1 that we continue to support the growth in interest in the sport in the USA and in the absence of an American driver a Stars 'n' Stripes team fulfills that role.
"Let's hope therefore that Haas is on the up in this final part of the season and maybe they can even get a good result at their home race in Austin."
Gallery: The beautiful wives and girlfriends of F1 drivers
Keep up to date with all the F1 news via Facebook and Twitter