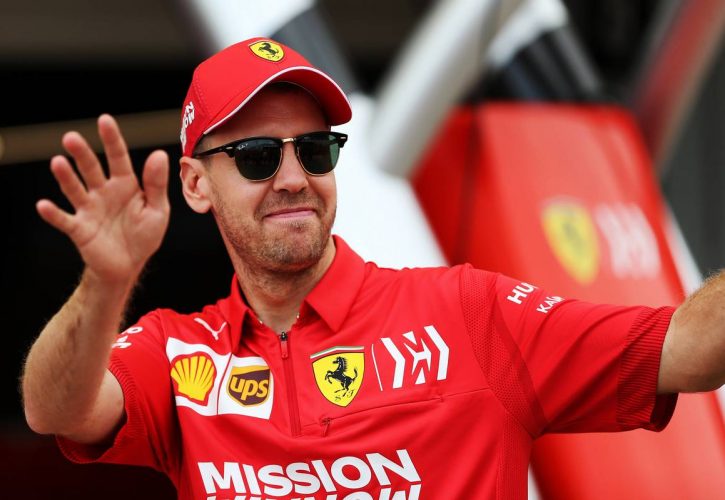 Sebastian Vettel has moved on from the team order breach that marked Ferrari's Russian Grand Prix, insisting the Scuderia's stance on the matter is now clear although there has been no need to "write anything in stone".
At Sochi, Vettel defied a team order to hand the lead of the race back to poleman Charles Leclerc after the Monegasque had towed his teammate into first place at the start, in compliance with the pair's pre-race agreement.
Leclerc repeatedly asked why Vettel wasn't holding up his end of the bargain, while the Scuderia's pitwall ordered the German to give up the position lap after lap, and ultimately resorted to pitstop strategy to swap the positions.
Both drivers cleared the air with team boss Mattia Binotto in the days following the race, and Vettel, like Leclerc, starts his Japanese Grand Prix weekend from a clean sleight.
"What agreement there was or wasn't, or who is right and who isn't, is perhaps not so important," explained Vettel on Thursday, ahead of this weekend's Japanese Grand Prix.
"But of course I got the message at the radio to change the place, and did not do it. And that was certainly not right.
"We spoke about it obviously, more than once. We speak with each other. But I think it's pretty clear. We didn't write anything in stone. I don't think it's necessary.
"Probably there's certain things that we could've done better looking back but in the end we look forward to this race and the next races. So not worried too much."
Vettel denied that his defiance in Russia had been prompted by Leclerc's recent rise to prominence on the back of his string of pole positions and consecutive wins at Spa and Monza
"No, not at all," said the four-time world champion.
"Obviously I'm not happy if I am slower, whether it's practice, qualifying or race but that has been the same, not just this year but years before as well.
"There are certain things this year I've struggled with here and there with the car which didn't allow me to extract my best, I don't think it would have been any different if anyone else was in the car.
"Charles is doing a very good job, but I genuinely believe it's first a race against yourself and then the others.
"There have been races where things didn't fall into place and therefore things didn't look great on the outside. But I think we were tackling the right things on the inside. So I'm not worried."
Gallery: The beautiful wives and girlfriends of F1 drivers
Keep up to date with all the F1 news via Facebook and Twitter