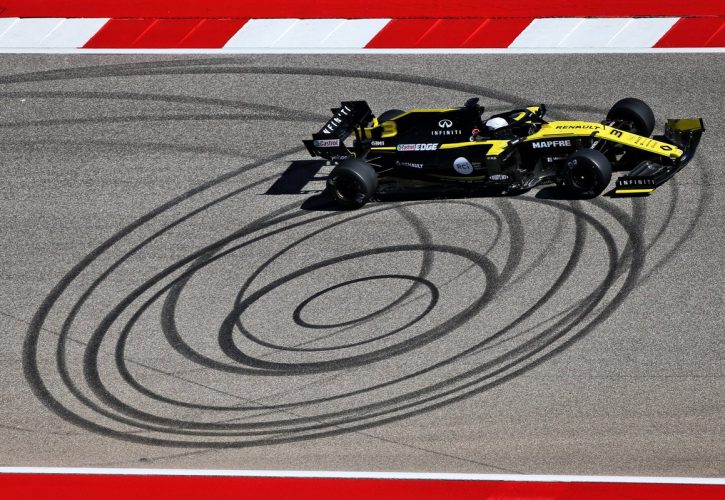 Teams and drivers got a head start on next year's tyres on Friday in Austin, but sampling Pirelli's 2020 rubber left a negative first impression on several drivers.
Pirelli took advantage in Austin of a rarely used rule within the sport's regulations that allows the supplier to introduce at certain events "a new specification dry weather tyre for evaluation purposes".
Teams were therefore allocated two sets per car of the 2020-spec tyres to sample in yesterday's free practice. It was anything but rave reviews, however.
Lewis Hamilton was tight-lipped on the compound he had tested, but not for confidentiality reasons.
"I've got to hold back and not say too much at the moment," commented the Mercedes driver, quoted by RaceFans.
McLaren's Carlos Sainz also shed some light on his rather unsatisfactory seven-lap experience with the new rubber.
"It was not very productive for me," said the Spaniard. "We tried to measure those tyres with a lot of sensors, but they felt very weird and very bad."
A disappointed Romain Grosjean felt there was little difference between the new-spec tyre and the current compounds.
"If you put the stickers on the side of them I don't see the difference," said the Haas driver.
"We used the two proto[types] in the morning, had a good check. They're not any better, so a bit disappointing in that aspect."
Sebastian Vettel agreed in Grosjean's opinion about the new tyres offering no perceptible progress.
"I think it was a disappointment because there was no step forward," said the Ferrari driver. "But it's pretty much done, the tyres are built for next year so that will be it."
Pirelli F1 boss Mario Isola insited that conditions were perhaps not ideal as driver could not optimise their set-ups for the new tyres.
"Unfortunately conditions were less representative," he said. "So we have to analyse the data to understand which is the level of performance.
"The first feeling is that the new package has probably a little bit less grip or peak of grip, and that it's more consistent. That is what we are looking for.
"We have to consider that in Friday practice first of all they have to focus on the race weekend, they cannot dedicate too much time to test the tyre for 2020. Nobody had the time to adapt the set-up to the new construction," added the Italian.
"It's different, the profile is different, so the construction is working in a different way. And this requires a little bit of set-up.
"But I'm sure they have collected useful data for the Abu Dhabi test, because at least with the comparison they did today they know what to expect in Abu Dhabi, and they can work on that."
Gallery: The beautiful wives and girlfriends of F1 drivers
Keep up to date with all the F1 news via Facebook and Twitter