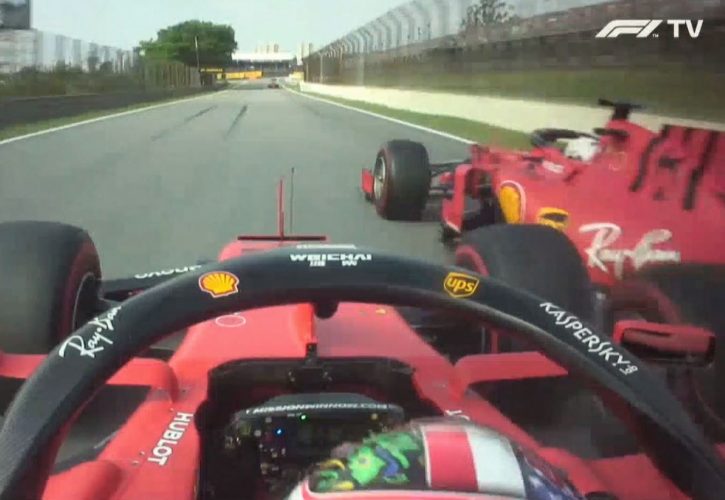 Nico Rosberg says Sebastian Vettel moved over on Charles Leclerc "a little bit too soon" during the Ferrari pair's battle in Sunday's Brazilian Grand Prix, causing the costly clash and demise of the Scuderia's drivers.
After starting down the order following a grid penalty, Leclerc had raced up the order and put himself in contention among the front-runners.
In the closing stages of the race, the Monegasque challenged Vettel for fourth into Interlagos' Turn 1, gaining an edge which the German attempted to take back on the run up to Turn 4.
As Vettel passed Leclerc on the right, the two cars made contact, but damage ensued and both drivers were forced to retire up the road, leaving a large bag of points for their team and themselves on the table.
Rosberg enjoyed the entertainment provided by the Ferrari chargers but insisted the fight resulted in the worst possible outcome.
"Of course really tough for them and the team, that's not a situation you want to be in it's really horrible, and particularly when you are in Ferrari that's the worst thing that can happen in the world," said the 2016 F1 world champion in his post-race analysis on Youtube.
"At the same time though, unfortunately from the outside, entertainment wise, we all want to see those kind of incidents because it just provides so much spice and intensity to everything."
Scuderia boss Mattia Binotto refused to apportion blame on either of his drivers in the immediate aftermath of the incident, but Rosberg delivered his own judgment on the rift.
"I've had that incident before," said the German. "It's a really difficult one because everyone tries to squeeze everyone as much as possible and not leave any extra space, that's always important.
"So Leclerc already leaves the minimum space on the outside there and then Vettel as soon as he comes in front with his car he immediately starts to squeeze Leclerc, because as soon as you move a little bit ahead you are the dominant guy, and you can dictate where to go.
"I see a little bit less of a fault on Leclerc's side there, that's how I would put it.
"I've had similar incidents myself in a race. The guy in front thinks you're moving quite slowly and it's important to pressure the other guy towards the inside as soon as possible.
"You don't see that the guy in front is moving over and there's millimetres, so by the time you realise…'oh he's moving over', you've already touched.
"It's just both of them being as aggressive as possible and a tiny thing, they just fractionally touched and it destroyed both cars.
"But I would see a little less fault there on Leclerc because Vettel possibly moved over a little bit too soon and too quickly, but it's really small things."
Will Binotto agree when the Ferrari boss sits down with his drivers at Maranello this week? Oh, to be a fly on the wall of that meeting...
Gallery: The beautiful wives and girlfriends of F1 drivers
Keep up to date with all the F1 news via Facebook and Twitter