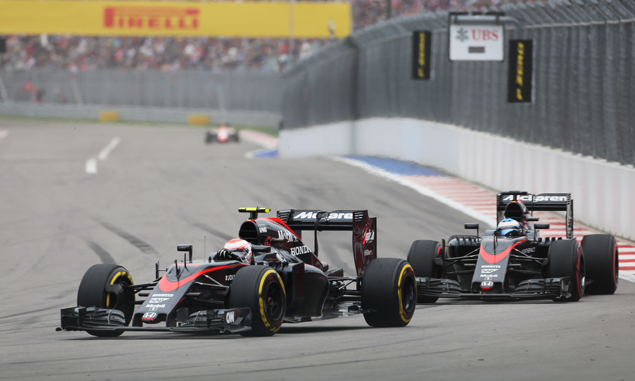 Fernando Alonso says it would welcome "a bit of tension" with team-mate Jenson Button in 2016 for it would mean that McLaren-Honda is fighting at the sharp end of the grid.
The Spaniard returned to Woking last winter in the search for that elusive third world title he has been seeking since 2006. But the British team ended up enduring a very tough reunion with engine partner Honda amidst poor reliability and performance.
The two Mclarens were often spotted touring at the back of the field, fighting with the likes of Manor and Sauber to nick the odd points-paying finish.
At a time when dominant Mercedes warns its drivers that escalating tensions will prompt the team to take swift measures, Alonso would relish the opportunity to battle it out with Button at the front.
"There is always more stress when you are fighting for championships and wins within your team, as we have seen with some other teams who are having issues," the 34-year-old told Sky Sports News HQ.
"But let's say it's a good stress to have when you are fighting for big things. I'm looking forward to working with Jenson next year and if there is a bit of tension then it would be welcome as well!"
Alonso's frustration grew more visible over the final stretch of the season, which led to a bizarre back and forth in Abu Dhabi with McLaren boss Ron Dennis over a potential sabbatical in 2016 for the ex-Ferrari star.
The Spaniard firmly dismisses the idea once again, as he is confident his team will bounce back next year.
"It is true that Ron said something like that [last] Friday but he then said the opposite thing on Saturday. It is not something new.
"We understand, Jenson and I, the challenge in front of us and we've had to use all of our experience and knowledge to help the team grow and improve the situation as quickly as possible.
"That's what we are doing and now that things are getting better it would make no sense to have a sabbatical year and miss the opportunity to finally enjoy being competitive next year."
The MP4-X: McLaren unveils radical F1 concept car design
Click here for a more light-hearted look at the Abu Dhabi Grand Prix
Use the red tabs on either side of the screen to scroll through more Formula One news and features
Click here for a gallery of the McLaren MP4-X
Keep up to date with all the F1 news via Facebook and Twitter