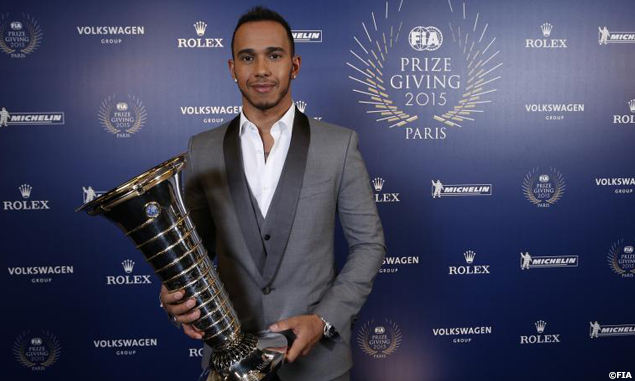 Lewis Hamilton has been officially crowned 2015 FIA Formula One World Champion, as he and Mercedes collected their trophies at Friday's Prize Giving ceremony in Paris.
While team-mate Nico Rosberg finished the year on a high with six consecutive pole positions and three wins in a row, the season belonged to the Briton, who secured 10 victories, 11 poles, as well as an additional seven podium finishes.
Hamilton equaled childhood hero Ayrton Senna when he wrapped up his third world title by winning the US Grand Prix. The 30-year-old also drew level with Sir Jack Brabham, Sir Jackie Stewart, current boss Niki Lauda, and Nelson Piquet.
"It's pretty much impossible to put into words what it means to be a three-time world champion," Hamilton said.
"It is a dream, it's an incredible feeling and I'm very proud of my family for everything they did to get me here today.
"I remember how hard my Dad and my Mum worked to make sacrifices for me. It's been a long, long journey: I've been racing for 22 years.
"This year, winning the race in Austin and sealing the championship there was one of the most special races – there's a huge sense of pride in what I have achieved."
Hamilton is the first British driver to successfully defend the drivers' championship and will naturally feature amongst next year's heavy favourites. A fourth crown would see the ex-McLaren ace – he won his first title driving for Woking in 2008 – match Alain Prost and Sebastian Vettel in the history books.
The MP4-X: McLaren unveils radical F1 concept car design
Click here for a more light-hearted look at the Abu Dhabi Grand Prix
Use the red tabs on either side of the screen to scroll through more Formula One news and features
Click here for a gallery of the McLaren MP4-X
Keep up to date with all the F1 news via Facebook and Twitter