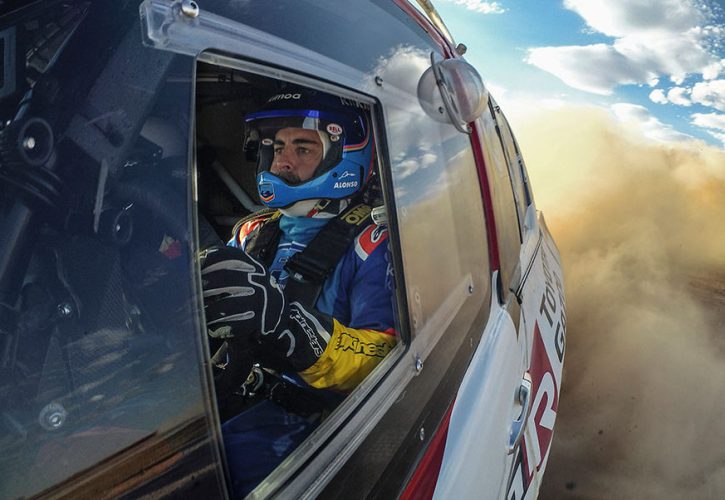 Fernando Alonso downplayed his chances of winning next month's Dakar rally raid, insisting his inexperience of the grueling event will limit his prospects.
Alonso's 2019 agenda included an ill-fated attempt to qualify for the Indy 500 and the conclusion of his WEC duties with Toyota for which he won the Le Mans 24 Hours for a second time.
As he continues to venture out of his motorsport comfort zone, and before he focuses on another run at the Indy 500 in May, the two-time F1 world champion is preparing for two weeks of sand and dust off Saudi Arabia's beaten tracks onboard his Toyota Gazoo Racing Hilux with co-driver Marc Coma.
Asked if he felt ready for his upcoming joy ride in the desert, the Spaniard said he was, but winning would be a challenge.
"If I go there to enjoy the experience, yes," he said at Friday evening's FIA prize giving in Paris.
"If I go there to make the most of it, yes.
"If I think on Dakar in terms of winning Dakar, I don't feel ready.
"I'm perfectly aware of my lack of experience. I think in other races that I attempt, in Indy or Le Mans or Daytona, I feel quite competitive in a level that I could fight for victory.
"In Dakar, I don't think I am at that level and I need to be with feet on the ground. But I will play a different strategy. I will not be the fastest but hopefully I will be in a good position at the end."
Alonso underlined once again that his main target next year will be the Indy 500, although he has yet to decide which team to join for the blue riband event.
"The intention is to do the Indy 500 next year. That's the one that I want to win now and the main priority for me," he said.
"I will need to look at the best possibilities, to be competitive. Last year (2019) it was sad not to be competitive enough or prepared enough."
Gallery: The beautiful wives and girlfriends of F1 drivers
Keep up to date with all the F1 news via Facebook and Twitter