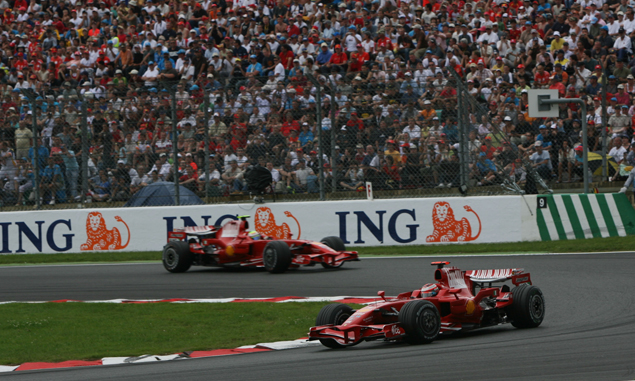 Kimi Raikkonen says he has a soft spot for older traditional grand prix venues, adding that modern tracks all look the same.
Having begun his Formula One career in 2001, the Ferrari driver has been a first-hand witness of the sport's expansion into Asia and the Middle-East. As F1 started travelling to countries like Bahrain, China, Turkey, Singapore, Abu Dhabi, India, South Korea, etc. it stopped going to historic places like Imola and Magny-Cours (see picture) in the mean time.
With leading circuit designer Hermann Tilke overseeing all the recent projects, Raikkonen feel these lack originality compared to their counterparts from yesteryear.
"It's always the new places that are quite similar, designed by the same guy," the 2007 world champion said. "I'm not saying that they're not good but they are more the same. I enjoy the older, traditional circuits.
"You maybe didn't like Magny-Cours; I liked it, not many people, quiet, easy. It was one of the best places to go! I liked the older [tracks], they looked a bit nicer, a more normal feeling… I prefer there, it's easier for people to go to – for us."
While F1's foray into new territories is set to continue with a first trip to Azerbaijan's capital city Baku scheduled in 2016, the last couple of seasons saw a return of two heritage races – Austria and Mexico.
Raikkonen, who recently spoke out in favour of a race weekend format shake-up, adds that the destination per se matters little in the end since the programme on site is not any different.
"We go wherever the race is. The weekend itself doesn't change. We have the same people, the timetable is more or less [the same] and the same things happen."
21-race 2016 F1 calendar approved, Austin TBC
Click here for a more light-hearted look at the Abu Dhabi Grand Prix
Use the red tabs on either side of the screen to scroll through more Formula One news and features
Click here for a gallery of the McLaren MP4-X
Keep up to date with all the F1 news via Facebook and Twitter