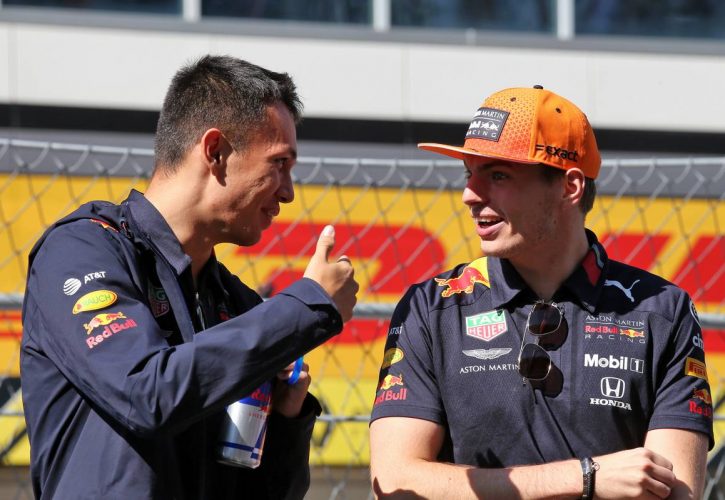 Red Bull Racing's Alex Albon says there's no better way for him to learn and gauge himself than by racing alongside Max Verstappen, perhaps the fastest driver on the grid.
Albon's performance with Toro Rosso in the first half of the 2019 season compelled Red Bull to promote its rookie to the senior bull outfit while incumbent Pierre Gasly went the other way.
Many feared the British-Thai racer, given his relative inexperience, would struggle to measure up against the blindingly fast Verstappen. But Albon acquitted himself well, scoring points in all but one race in the back half of the year.
Going up against Verstappen is a tough trial for any driver, let alone for a young charger still learning the ropes of F1. But Albon has embraced the challenge which he believes will prove beneficial to him.
"I think everyone knows he's quick, everyone knows who he is, and yeah, it's no different for me," Albon said.
"I appreciate how quick he is. And it's good for me. I feel like what better way to learn and to prepare myself than against pretty much one of, if not the fastest driver, on the grid.
"I think it's a good way to speed up the learning process! And I see that as a positive, I see it as a good thing and a goal to chase and to close the gap.
"That's what I want. For me it's a good thing, because of his reputation. I see it as as a way that I can show myself and prove myself."
Verstappen is an established race winner at just 22. Unsettling the massively talented Dutchman is a tall order, but Albon insists that "nothing's impossible" as his knowledge and experience improves.
"There's never a time when I've gone 'oh Jesus, well, I'm going home!'," he said.
"But yeah, of course, he's very quick. But nothing's impossible.
"It's just him being comfortable with the car. He's spent a lot of years with the team and he knows how to extract all that time, whereas for me it's still a bit of a learning process."
Gallery: The beautiful wives and girlfriends of F1 drivers
Keep up to date with all the F1 news via Facebook and Twitter