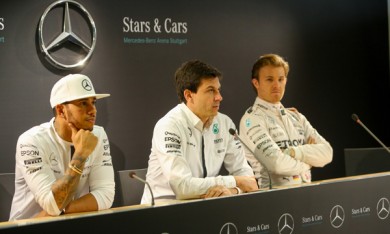 Toto Wolff's warning over the consequences of the Mercedes team spirit being disrupted by any increase in animosity between Lewis Hamilton and Nico Rosberg has been heard and understood by both drivers.
During the manufacturers festive Stars & Cars event in Stuttgart, Wolff took the opportunity to address once again the issue, but this time flanked by both drivers as they listened to their boss' potential admonition.
"Nico and Lewis know very well what was meant," Wolff explained.
"The spirit of the team was essential. It was one of the forces which makes us who we are and what we are. If the animosity - if there would be animosity within the team – that would be detrimental to the team.
"And I said that, if we were unable to contain the fierce competition and it could spill over to the team, then we would be needing to look at how we would set up the driver line-up for the future."
The message was received loud and clear by Mercedes' drivers, with both men seeking to appease Wolff's worries.
"I hope that Toto always comes back to the conclusion that it's actually good the way it is," Rosberg said. "That's all I can say."
"And thank you very much for having done such a great job in managing the situation - and I can see a couple of extra grey hairs that have arrived, so maybe those are courtesy of us..."
Listening attentively, Hamilton added: "I pretty much agree with Nico. I don't believe anything negative has come from the competition, it's natural.
"In any environment, you want to make sure the atmosphere remains strong and we are a winning team, so we want Mercedes to be at the front the whole time.
"And there's nothing we can't do together. We'll always communicate and we always have and we'll always rectify if we had any issues - and we don't now. There are no issues."
Three F1 seasons in one - Pirelli boss offers radical scheduling plan to save F1
Exclusive pictures of the Mercedes power unit
Use the red tabs on either side of the screen to scroll through more Formula One news and features
Click here for a gallery of the McLaren MP4-X
Keep up to date with all the F1 news via Facebook and Twitter