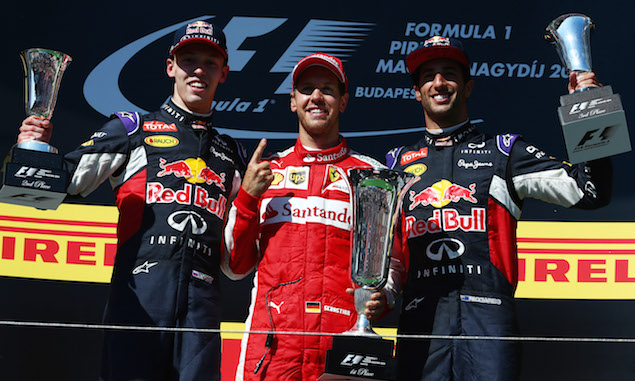 Daniel Ricciardo says he finds it tough to compare who is the faster driver out of his Red Bull team-mates Sebastian Vettel and Daniil Kvyat.
Vettel was Ricciardo's first team-mate at Red Bull in 2014 and the Australian got the better of the four-time world champion to finish third in the drivers' championship with three victories. However, with Vettel moving to Ferrari this season, Kvyat was brought in as his replacement and ended the year three points ahead of Ricciardo in the standings.
Asked if Kvyat is faster than Vettel, Ricciardo replied: "It is so hard to judge.
"He has shown speed, I can't say he is not quick. He has some good qualifying and races, so throughout the season he is showing some signs. I think what was probably surprising or good from him was the first four or five races, it seemed he wasn't quite up to speed, whether it was with a bigger team or the new car, it looked like he would either learn quick or it would be a disaster of a season for him. He turned it around quickly. My season as well has gone like that, but he has maintained a pretty good level of performances.
"We can work out who had DNFs, but he has done well. I think he has adapted well, picked himself up when he had to and he is still young so there is room for improvement and growth. I think he is more comfortable with the world of F1."
Though yet to be officially announced, Kvyat will stay at Red Bull in 2016 and Ricciardo says he can see the benefit of continuity for the team.
"For me as a driver I am not too fussed in terms of who my team-mate is, I think it is always nice to have a new to learn things from, but from the team in our position it can't hurt us."
Three F1 seasons in one - Pirelli boss offers radical scheduling plan to save F1
Exclusive pictures of the Mercedes power unit
Use the red tabs on either side of the screen to scroll through more Formula One news and features
Click here for a gallery of the McLaren MP4-X
Keep up to date with all the F1 news via Facebook and Twitter