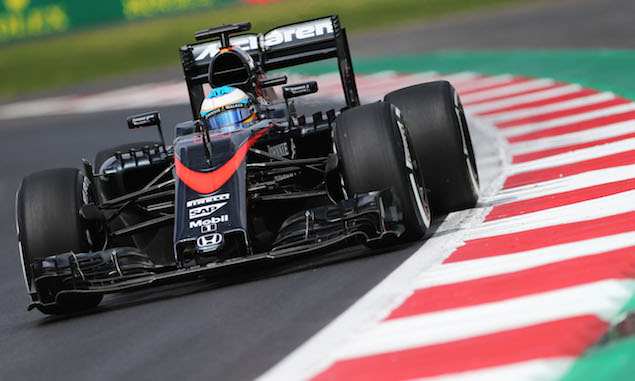 Fernando Alonso admits there is "a question mark" about how competitive McLaren is likely to be in 2016.
McLaren switched from Mercedes power to Honda at the end of the 2014 season to rekindle what has been a hugely successful partnership for the team in the past. However, reliability problems and a lack of performance from the power unit left the team struggling throughout the year, with McLaren finishing ninth in the constructors' championship.
Off the back of such a difficult year, Alonso admits he is wary of making predictions for 2016 which may prove to be unrealistic.
"At the moment there's a question mark, I guess, where McLaren-Honda can be next year," Alonso said. "There are a lot of expectations in the team. I think we worked really all season, being united in some difficult moments and always moving forward, so I think for 2016 the main goal for the team is to come back to where we belong, we think, and being competitive, fighting for the top positions.
"I don't know if that means fighting for the championship, I don't know if that means fighting for victories or just being on the podium sometimes, that's always difficult to know in a very complex sport like Formula One."
While unsure of what is a realistic target for 2016, Alonso says he is encouraged by the direction McLaren has been taking during the latter part of this year.
"There are definitely some big challenges ahead in this winter and I see all the things that the team has done in the last couple of months and these seem very logical, very positive and I'm confident that it's going to be a completely different season next year and I'm happy with the progress."
Three F1 seasons in one - Pirelli boss offers radical scheduling plan to save F1
Exclusive pictures of the Mercedes power unit
Use the red tabs on either side of the screen to scroll through more Formula One news and features
Click here for a gallery of the McLaren MP4-X
Keep up to date with all the F1 news via Facebook and Twitter