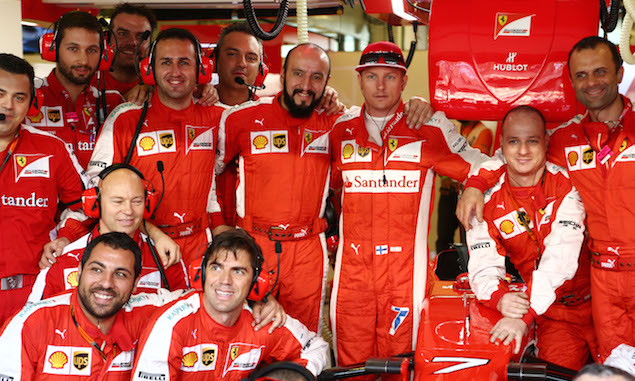 Ferrari president Sergio Marchionne says Kimi Raikkonen has undergone "a huge change" and can deliver a "phenomenal" 2016 season.
Raikkonen returned to Ferrari in 2014 but had a disappointing year as he finished in 12th place in the drivers' championship having been unhappy with the handling of the F14-T. This year's car has suited Raikkonen much better and he secured fourth in the standings behind team-mate Sebastian Vettel at the final race of the season.
Speaking at the Ferrari Christmas press conference, Marchionne says he is encouraged by the improvement he has seen from Raikkonen.
"If I can give you some encouraging information, it's that I have seen a huge change in Kimi during the season," Marchionne is quoted as saying by Motorsport.com. "The second half was much better than the first, it was like watching a movie - where the second bit is better than the first."
And Marchionne believes Raikkonen's family life has had a major part to play in making him more focused on his work with Ferrari.
"We were talking with some of our colleagues over the past three or four days, and we are beginning to look at a different Kimi. The fact he is married with a kid - he showed me a picture because he is a proud father - is also reflective of the changes in his own life.
"He is becoming a lot more settled, which I think will be helpful in 2016. I think he will be the most engaged we have seen him the last little while. I am delighted he is part of the team. We have two drivers and they do compete.
"It happened to Seb, he has had a phenomenal year in his first year, and I am expecting that Kimi will rise up to the challenge and have a phenomenal season in 2016. I think he can. He is a good kid."
Three F1 seasons in one - Pirelli boss offers radical scheduling plan to save F1
Exclusive pictures of the Mercedes power unit
Use the red tabs on either side of the screen to scroll through more Formula One news and features
Click here for a gallery of the McLaren MP4-X
Keep up to date with all the F1 news via Facebook and Twitter