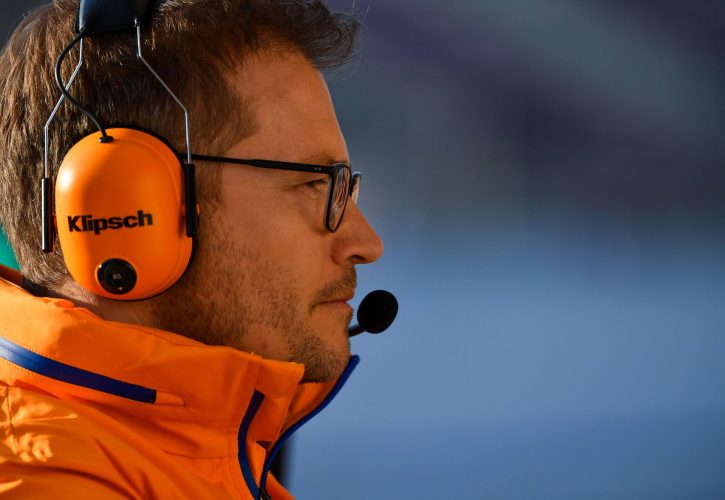 McLaren boss Andreas Seidl's popularity among F1i's discerning readers shot up big time this weekend, and it did so for all the right reasons.
While the F1 community heads back to base following the jumbled cancellation of the Australian Grand Prix, one man has stayed behind to help carry the burden of some of the crews his commands, exemplifying the values of leadership.
As a wise measure of precaution, McLaren has quarantined in Melbourne 15 members of its staff, including the employee who tested positive for the coronavirus on Thursday, and whose condition led to Seidl and Zak Brown's bold decision to withdraw McLaren from the Aussie GP and to the events that would force upon F1 the cancellation of the season-opening race.
The group will remain in self-isolation for 15 days, but its morale and spirit boosted by Seidl's unwavering support and presence.
The German's distinguished track record in motorsport as a disciplined and scrupulous team manager - highlighted by the outstanding success of Porsche's LMP1 squad in the WEC - is well chronicled.
But Seidl's qualities as a supportive team leader, mindful of the well-being of his troops, are just as remarkable.
This wasn't lost on F1 fans and our readers in particular who sanctioned the short story we did on the McLaren F1 boss' decision to remain with his men in Australia with a deluge of 'likes', re-tweets and comments on Twitter, some of which we have posted here-under.
The actions of the remarkable Mr. Seidl remind us that there is no 'I' in the word team. And that no McLaren man is ever left behind.
What a guy! Leadership at its best. https://t.co/agrva7aSks

— Anirudh Puppala (@anirudhpf1) March 14, 2020
He's a good guy. He's always shown great leadership at his former posts at BMW and Porsche. 👍

— Starkraving☘️🖕 (@Starkraving6) March 14, 2020
I can't say it enough, I love this man and everything he stands for 🧡 https://t.co/W6AYTAzBbi

— Jessica 🌈 (@parisianskies) March 14, 2020
Nothing but proud of the team and management of @McLarenF1 https://t.co/weSeYZlhtN

— Nickie (@F1_Girl_) March 14, 2020
👏 Wow, big time move by Seidl here to stay back with his crew. https://t.co/Knf8xeTNla

— Tim Hauraney (@timhauraney) March 14, 2020
There's a lot to like about this guy since he joined McLaren. A proper leader and showing compassion too. https://t.co/fncQNItueS

— James 🇮🇪 || It's RuSSeLL (@JOC__1991) March 14, 2020
Actions like this show how much people mean to the team! pic.twitter.com/0W0wLwx99V

— Neil (@ns_brady) March 14, 2020
I still haven't chosen a "favorite" F1 team, but i have to say, McLaren has really impressed me for the last 12 months, and especially now in Australia. https://t.co/fwvFzknO1Q

— Danny Page (@DannyPage) March 15, 2020
Keep up to date with all the F1 news via Facebook and Twitter